Meet Sandy Alderson, a Falls Church High School Alum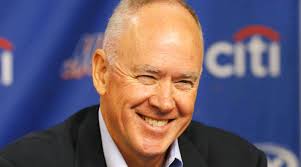 Falls Church High School is not the largest school for our area, but we have produced some celebrities.  One in particular is New York Mets General Manager Sandy Alderson.  Sandy was born in Seattle, Washington in 1947, and moved to Falls Church at a young age and eventually graduated from Falls Church High School in 1965.  However, Falls Church High School was relocated in 1967, so Mr. Alderson attended school in a different building than we do.  From there he attended Dartmouth College on a NROTC scholarship and graduated from there in 1969.  He later joined the United States Marine Corps and served in Vietnam.  After serving, he got his Juris Doctor from Harvard School of Law in 1976.
From there Mr. Alderson became the General Manager of the Oakland Athletics from 1983-1997.  There Anderson began focusing on sabermetrics after he was ordered to cut payroll.  Alderson mentored Billy Beane, who is played by Brad Pitt in the movie Moneyball.  Over the next years Mr. Anderson would work for the Major League Baseball Commissioner's Office, CEO of the San Diego Padres, and a business professor at University of California, Berkeley.  
Eventually, Mr. Alderson was hired as the Mets General Manager starting in the 2011 season.  The Mets have had great success under Alderson; last year the Mets won the National League East and made it to the World Series.  
The Jagwire has written to Mr. Alderson in hopes for a formal interview to ask about his times in Falls Church.  The start of the new baseball season Mr. Alderson is very busy, but we hope to be able to bring you an interview with him in a future issue.  
Mr. Alderson is one of many sports celebrities to have been a student at FCHS.  The voice of the Washington Capitals, Wes Johnson, graduated from Falls Church in 1979.  Also Rich Sauveur graduated from Falls Church in 1981 and became a major-league relief pitcher with the Pirates, Expos, Mets, Royals, White Sox, and Athletics.  So now that you know about some of our successful alumni, take some time to look around because you may be standing next to someone who will one day be famous in professional sports.