Heritage Night Fashion Show
Heritage Night is one of the Falls Church High School community's favorite events of the school year. The show usually consists of a dinner, which sadly was cancelled this year due the rescheduling, with food from many of the different cultures that our school represents and then a show paying tribute to those cultures. The Heritage Night show is a time when our diverse schools can come together and experience everyone else's culture and see what it is like to be a part of that culture or community.  Along with the many performances comes a crowd favorite, The Heritage Night Fashion Show.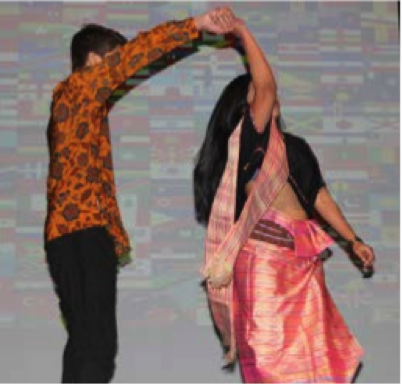 The Heritage Night Fashion Show is a time to express our backgrounds and heritages, in ways we normally do not in everyday life. Falls Church is one of the most diverse schools in Fairfax County and that shows by the many cultures we had on display during the fashion show. The way the Heritage Night Fashion Show works is by two people walking out at a time dressed in traditional clothing from their heritage, country, or culture.  Many different regions were represented in the fashion show, like the Middle East, South America, all parts of Asia, and of the course the United States.
The Heritage Night Fashion Show is an event that the Falls Church High School community is proud of, and for good reason. The fashion show shows that all of our friends and classmates have cultures that they do not forget and want to embrace. During everyday life at school, the people who participated in the fashion show dress as normal American teenagers. The fashion shows gives students an opportunity to express and respect their heritage and culture which their family comes from.