Graham park plaza redevelopment: 'a life within walking distance'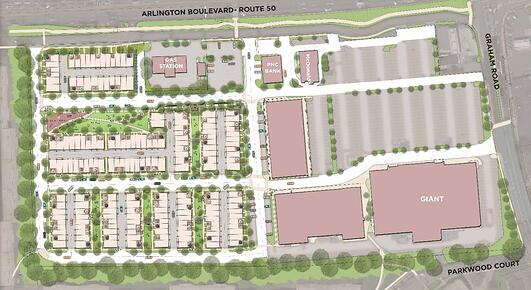 After a long day of worksheets and projects, many Falls Church High School students go out to The Graham Park Plaza to enjoy Slurpees and McDonald's with their friends. The Graham Park Plaza has been around for over 50 years. Opened in 1971 the plaza has had its fair share of love from its customers and tenants. 
Federal Realty, the plaza's property management company, has sold almost half of its Falls Church shopping center to Eakin Youngentob Associates (EYA) for $20.25 million. EYA will be adding 172 new townhomes starting in the mid $600,000 and 22 affordable units priced at $200,000 adjacent to the existing plaza. To match the modern feel of the new homes Federal Realty has also added new signage and decorative lighting to the exterior of its tenants' buildings. The plaza will soon feature artistic murals and a large outdoor seating area. The redevelopment was approved in October 2020 and is scheduled to be finished in the fall 2024.
 The shopping center includes a Giant Food and various restaurants and retailers. Many Falls Church Students hang out at the plaza after school and sports games. A lot of students also live in the Monticello apartments near the plaza and work at the shopping center. Since the students spend a lot of time out there, many of them are taking the renovation well. "I am very glad they are finally renovating the shopping center," said Fabricio Orellana (10) "Considering so many people shop and work there, it's important for it to be revamped."
The Plaza is located inside the Capital Beltway, southwest of Route 50. EYA decided this area because they want to bring a sense of community to the shopping center. "We wanted to establish a townhome community offering retail and dining that is within walking distance," said Tara Rosenberg, EYA's online sales associate. Though the Graham Park shopping center is within walking distance to the EYA townhomes, the area surrounding is made up of mostly large highways and intersections.
Leave a Comment