San Antonio's Kawhi Leonard a Superstar?
San Antonio's Kawhi Leonard a Superstar?
By Numaan Qureshi
Staff Writer

NBA Champion and Finals MVP in 2014, NBA Defensive Player of the Year in 2015, NBA All-Defensive Team in 2015, NBA All-Rookie Team in 2012, and still hasn't been voted as an all-star is so very Spurs like, nobody cares about them. Kawhi has even outplayed the great LeBron James when the Spurs won the championship. So far this year, Kawhi is leading the way and is averaging a team-high 22.1 points, 7.6 rebounds, two steals, 1.4 blocks and shooting 52.8% from the field and 37.5% on three-pointers and is also one whole rebound a way from leading the team in rebounding. He is shooting 50% from the field and shutting down his opponents. The craziest statistic of all is the fact that he held Kevin Durant, Joe Johnson, and Carmelo Anthony to a combined 11 of 41 shooting. Every scorer or small-forward has to worry to play the Spurs because they will be entering Leonard Island and will be shut down.
San Antonio Spurs coach Gregg Popovich gave his star forward a CD with clips of Hall of Famer Charles Barkley handling and beating double teams. Popovich said, "He's getting double teamed now, and that's a whole different basketball game." Kawhi is literally clamping up defenders and shooting at an extremely efficient rate while being double teamed! Popovich has even said he has the ability of what Michael Jordan did at both ends. Kawhi Leonard sure is showing just that and the Spurs organization hope he leads them to another championship.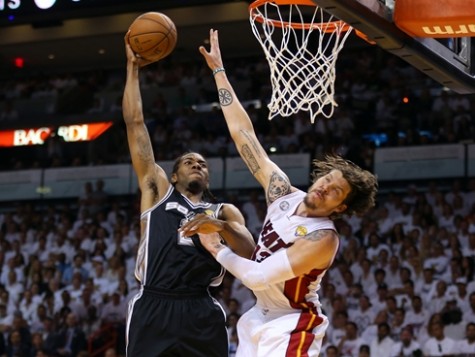 Courtesy of http://cdn.fansided.com/wp-content/blogs.dir/229/files/2014/05/kawhi-leonard-paul-millsap-nba-atlanta-hawks-san-antonio-spurs-850×560.jpg