Longtime frustrations linger as renovation begins
Documents reveal allegations of a faulty process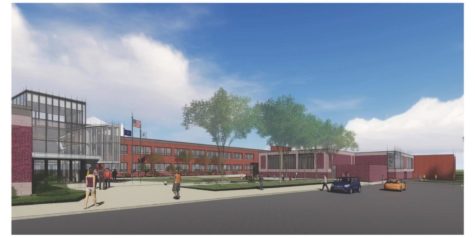 Leaky ceilings, erratic temperatures, and substandard code compliance are not new issues at Falls Church HS. For more than 15 years, parents, students, teachers, and community members have been raising the alarm about the condition of the building and its effects on the students who learn in it. Even with facilities improvements beginning this year, questions linger about why the school was repeatedly pushed to the back of the renovation line. The Jagwire has obtained documents in an investigation that reveal how the tangles of district bureaucracy have trapped the school in limbo for a generation of students. 
FCPS owns and manages 198 schools and centers across 406 square miles; by the numbers, it owns more buildings than either New York University or Google. 
In 2008, the school board directed FCPS to evaluate 63 elementary, middle, and high schools to determine which should be prioritized for renovation. Architectural firm Samaha & Associates was contracted to complete this work.
Using a facilities rubric to grade and assign numeric scores to classrooms, athletic facilities, fine and performing arts rooms, workrooms, administrative spaces, and code compliance, the consultants worked to produce a holistic report about the condition of each school, all of which were then ranked in a renovation queue with number one representing the school most in need of renovations.
To much surprise, the 2008 report determined that out of all the evaluated high schools, Falls Church was least in need of renovation. Placed in the 51st spot in line, it placed below Langley, West Springfield, Oakton, and Centerville, all of which are in the process of or have completed their renovations.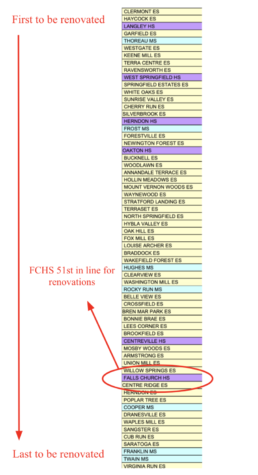 Particular attention was drawn to the evaluation of the Physical Disabilities (PD) Department. A unique program within the district, The Pod drew students from high schools across the county and sizeable special education spaces were a distinct facility others didn't have. Despite staff and parent concerns about the physical condition of The Pod, Falls Church received the most favorable assessment of its special education facilities.
Then-principal of Falls Church Cathy Benner remarked in an email to Dean Tistadt, then-head of the Facilities Department, that the scoring process did not seem "equitable" because "we are the only high school with a dedicated PD program (students come from Reston, Mount Vernon, etc. to attend this program) and yet [we] are 'penalized' because of it."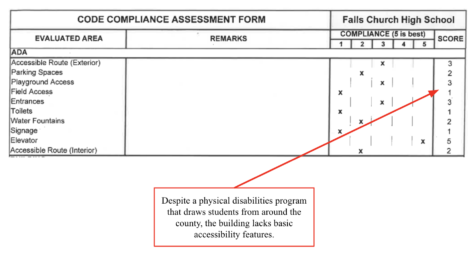 Although the Samaha consultants were supposed to leave comments explaining their scoring, Falls Church was the only school, out of 63, with no comments. Former Principal Benner noted the absence in her email to Tistadt, explaining that "because there are no comments, it is difficult to figure out how some of these scores were ascertained."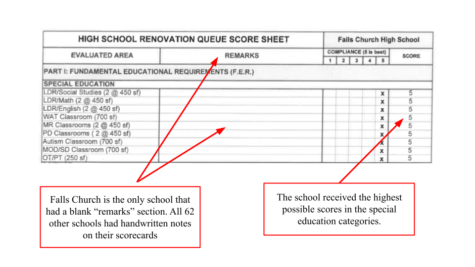 Falls Church received extraordinarily low scores in code compliance, earning just 136 points out of a possible 250. The building does not even have a sprinkler system, making it the only FCPS high school without one. Transformers, generators, emergency lighting, panels, breakers, and fire alarms, among many other systems, were given dismal scores and found to be not up to code.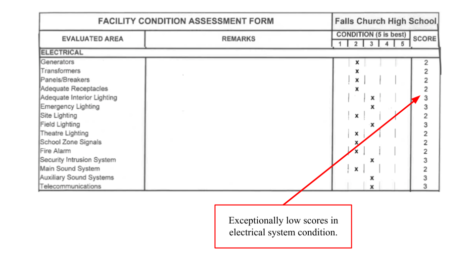 For the past 15 years, members of the school community have been questioning the objectiveness, fairness, and equitability of the scoring and queue that landed Falls Church at the back of the renovation line.
"I think it is outrageous that Falls Church High School has not been renovated," said former school board member Sandy Evans (D-Mason).