FCHS Should Show its Jaguar Pride with a Statue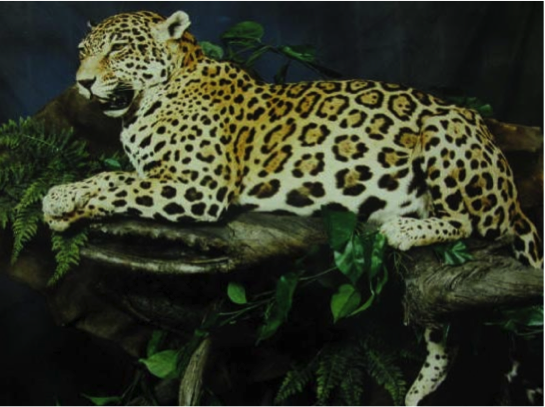 Picture yourself walking into Falls Church High School for the first time, you don't know what to expect, then when you open the doors you're greeted by a life-like jaguar leaping at you. This is the first impression a jaguar statue could give to all visitors. Not only would a jaguar statue strike fear into the souls of any visiting teams' players but it would serve as a daily reminder to "be the jaguar".
Skeptics might say that it's a waste of time and money but this couldn't be further from the truth; when you enter Hayfield Secondary School you are greeted by a majestic hawk, wings spread, displaying its claws. This is the school pride that Falls Church wishes to achieve.
When it comes to actually making the statue the first option that comes to mind is taxidermy, or the process of stuffing and preserving an animal. This would be a more expensive route but the taxidermy would really give it that life-like effect. This would cost about $10,000 if you went to a good taxidermist.  Also, keep in mind that the taxidermist will not provide the actual jaguar. This is a problem considering that jaguars are not easy to come by in Northern Virginia, or anywhere else really—they are considered a threatened species. Contrary to common belief, jaguars are not from Africa, they are found in South America and parts of Mexico. At this point it's safe to rule out the taxidermy option.
Don't worry because taxidermy is not the only option. We could also have a bronze sculpture erected in honor of our beautiful mascot. Bronze sculptors have a more sophisticated feel to them and a more timeless look. The one drawback is that you lose that life-like element. The price is only a slight improvement from the taxidermy at $7,500. This is if we got the sculpture to be life-sized, of course we could have it made smaller to save money but the life-sized aspect is something we should not compromise on.
The final and most practical solution is a fake taxidermy sculpture of a jaguar. The fur would be fake and it would be mostly plastic but for our money it is the best deal. There is probably someone who could make a custom fake taxidermy jaguar for us but on eBay there is a surprising amount of people already selling these for about $250. This goes to show that there is a cost-effective way to show our jaguar pride, so let's come together to make this happen.