FCHS "Hidden" Leadership Roles Profile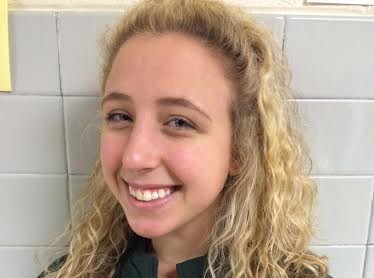 Many students within Falls Church High School take on more than their share of responsibility. However, oftentimes these students do not get the credit or the recognition they deserve. In many cases, their efforts go unnoticed. It is time we acknowledge these accomplishments and notice the Jaguars who are going above and beyond to display leadership in our school.
Cintia Samaha (12) is one Jaguar who is making a difference. While many of us may know her from her work around the school in her club, Safe Place, she also spends her time representing Falls Church High School in Dr. Garza's Superintendent's Student Advisory Committee. This Committee works to increase the dialogue between the students in Fairfax County and the district officials.
Mr. Daniels nominated Cintia, as well as a few other Leadership students be delegates in the committee. Cintia shared with us some of her responsibilities and favorite experiences working as a student representative.
"My favorite part about my position is being able to interact and meet people from other schools. I also get to take part in smaller workshops within the group. SAC has provided me with many opportunities that I would not have had access to otherwise."
There are many students who either do not know, or do not care what is going on in FCPS. For Cintia, that is not the case.
"I wanted this position because I care very deeply about making a difference within our school, and I liked the idea of being able to pass ideas from SAC to the school and vice versa."
But how often do meetings take place?
"We partake in the committee meetings once a month at different Fairfax County High Schools. We have the responsibility of taking notes, giving our opinions, and also making our presence known," she said, adding, "It's a huge responsibility to us because we are representing all the students at our school."
The Student Advisory Committee has many tasks at hand. Big or small, this committee is in place for the benefit of our student body. And some of the items on the agenda may not be what you were expecting.
"Something that is really fun at SAC is that we actually have a meeting where we taste test the school lunch menu for the next year," Cintia says. Who knew that the food in our lunchrooms is first tasted by a panel of students?
It is important to recognize the leadership within FCHS. No matter how much involvement you have within our school now, there is always time to join in and make a difference.
An organization at Falls Church that is sometimes overlooked is DECA. The goal of this club is to prepare high school and college students in the fields of marketing, management, and entrepreneurship with business related simulations and information sessions. The Jagwire recently interviewed Ly Do (12), the president of the Falls Church division of DECA. Ly says that as president of the Falls Church division, it is his responsibility to organize and schedule meetings and events, create a t-shirt design, and organize competitions. In these competitions, judges give you a business related problem or scenario to solve, and then you take some time to write and think about what you want to say to the judges to present the solution you came up with. Then, the judges meet with you and ask you business-related questions about your answers. These competitions are a realistic way of simulating the way the world of business works, and serves to really expose students to an environment where a professional gives them feedback on their plans to help them learn and perfect their marketing skills.
Ly became president when Mr. Coulter chose him for the position. Ly explained how in the past, the president was elected in a more biased way, mostly based on how well known the candidates were by their peers. The result of these more biased elections was that less changes and less progress was made within the organization. He said the organization began to fade out in a way. To improve this system, Ly encouraged change among the election, and made it more of an application, eliminating most of the corruptness. Because of his positive influences on the organization, he was chosen as president. Ly said that he likes being president because it allows him to take action and make his ideas happen, in addition to the fact that it enables him to be himself and express his opinions.