The King, the Queen, and the Gatsbys
Spending a Night with Gatsby
This year's theme was "A Night With Gatsby," so some people dressed like the fashion of the Roaring '20s. Caroline Plummer (11) and Mrs. Loebsack were two of the people who resembled the extravagant style of the Gatsby era. They both wore a crystal headband across their forehead like they did in the 1920s. The room itself was amazingly decorated in the glorious '20s vibe. Taylor Harvey's (11) mom designed the room and decorated it the day of prom. Other people helped the day including other students, event coordinator, and the hotel staff. Taylor, who was a big help to her mom, added, "It took a lot of planning and time, but I'm really proud of how it turned out!" The centerpieces were transparent with water and beads inside with white feathers on top. The standing tables were lit from underneath with a vase filled with green water and sparkling marbles.
When prom-goers first arrived at the Crowne Plaza Hotel, they saw two Model T cars parked in the front. The Great Gatsby themed continued when the students walked into the party room. The gold and black theme gave the space an extravagant, elegant ambiance. The sophomore class officers were offering a coat check in. The dance floor was busy the entire night with all the classics playing, including the cupid shuffle and other line dances which were played by the DJ.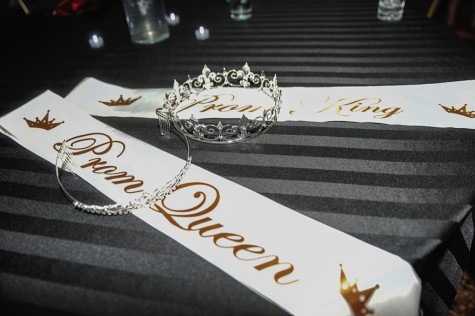 Around 10 o'clock, Mr. Yohe announced Falls Church Prom King and Queen. This year's Prom King was Eraldo Henriquez (12) and Prom Queen was Julisa Perdomo (12).  They both received a crown and sash to show off their new title. The seniors had voted week's prior in Jag Time to decide their king and queen. The naming of the Prom King and Queen is one of the most famous parts of prom. It is looked forward to all year and is a special moment for the entire school.