Six Jag Athletes to Play College Sports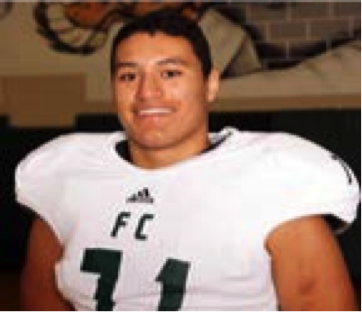 The past four years have been a series of firsts for the class of 2015 athletically. The Soccer team went to States, the Swim and Dive team blew out their competition and sent athletes to States, the Track team sent athletes off to States, the Tennis team won important matches, and the Football team was named District Champions. The senior athletes have been a driving force on their teams whether they were on or off the field. As the graduating seniors are pondering their college options these Jaguars have committed to playing college sports. Take a look:
Amy Rock (12) will be playing lacrosse for the University of the District of Columbia.
Question: How did you come across this opportunity?
Answer: "I've always wanted to play Lacrosse at a college level so I always pushed myself to perform at my very best. One day I received an email regarding my interest in playing for UDC. After further communication the Head Coach came to one of our games to watch me play. I also had the opportunity to visit the campus before they made me the offer to play for them officially. I accepted and I have been practicing and getting ready for the season."
William Mejia (12) will be playing Soccer for Virginia Tech.
Elijah Botts (12) will be playing Basketball for Chatham University.
Question: Why did you pick Chatham University?
Answer: "I really liked the school and the team atmosphere when I visited. The school also had an interesting story. It used to be an all-girls college but it recently changed and now males are allowed in. The athletic season of 2015-2016 will be the first year that they have a men's basketball team. Everyone on the team will be a freshman like me which I like because I will not be alone; we will be going through the same thing which will help with team bonding. I'm excited to play a sport I am passionate about while attending college."
Eric Rivera (12) will be playing Football for Glenville State University.
Eynnar Claros (12) will be playing soccer for Randolph College.
Anthony Calderon (12) will be attending Liberty University to play Soccer.
Question: Why did you pick Liberty?
Answer: "I picked Liberty because I wanted to find a school that would allow me to study what I wanted while playing Soccer. Liberty was close and was the best option for me and my family. I am excited to play soccer for them while studying Biomedical Science."