Jaguars' Notable Achievements of 2015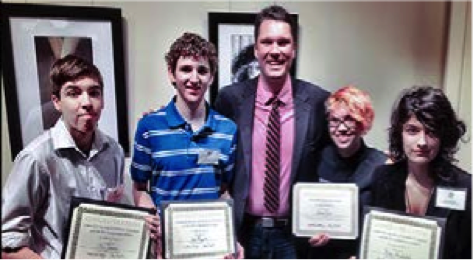 The students of Falls Church High School many amazing accomplishments this year.  Here are just a few who really stood out:
Max Johnson (12) was awarded the Portfolio Gold Medal and a $10,000 scholarship. This is an extremely prestigious award and makes him one of the top eight student artists in the entire country! Later this month, Max and the other Scholastic Art and Writing Award winners will go to New York City and have a award ceremony at Carnegie Hall. He will be attending Savannah College of Art and Design in the fall! Good luck, Max!
Juan Carlos Siguenza (12) received the Posse Foundation Four Year College Scholarship. He was chosen out of 1,600 other nominated students for this $165,000 scholarship. The Posse Foundation looks for students with not only great academics, but also leadership skills. Juan Carlos will be going to the University of Wisconsin this fall. Congrats, this is an amazing accomplishment!
Max Johnson (12), Wesley Rogers (11), Arden Hajaligholi (11), and Jenna Yow (10) received Animations and Digital Art in the 2015 Tech Arts Awards. This was held at Art Place Herndon and multiple students received high rankings. Max received Second Place with the prize of $750 for his animation. Wesley won Third Place for his animation with $500 as the prize and Arden received Honorable Mention with the award of $100.
The 2015 Mid-Atlantic Association of Teachers of Japanese (MAATJ) Haiku Contest was submitted this winter and multiple FC students placed! Thy Tran (10) received First Place and Jaylen Torres (11) received Honorary Mention in Japanese 2. Thy said, "Japanese and writing haikus is really difficult, but I really like it." For Japanese 1, Vi Phan (10) won First Place for her haiku, "First Winter".  Andrew Chin (9) won Second Place in Japanese 1.  He said, "Japanese is complicated, but our teacher, Thakur Sensei, is awesome!" Congrats to these four students for their amazing achievements!
The ESOL Global Awareness Technology Fair was held early in May and Nhung Bach (9), Hailu Kinfemicheal (11), and Tri Nguyen (9) all took part in it. Nhung won First Place in her category for her project "Bullying". She had a friend who hung herself outside their school in Vietnam because of bullying and hopes that her project will show people should speak up for themselves. Hailu received Honorable Mention for his project "How the Ethiopian Government has Changed Over Time". He chose his topic because he is Ethiopian and felt that people should know about the government there. Both said it was a great experience and lots of fun!
Hannah McMullin (11), Prin Kulwatno (11), and Wesley Rogers (11) all received Certificates of Merit on May 4 at the Kennedy Center. They were recognized by one of their teachers for being great leaders. That same night Keely Green (11) was awarded Excellence in the Arts for her participation in drama, chorus, and Cappies. She was nominated by Ms. De Marco and Ms. Robinson because of her involvement in so many arts; Keely added, "I love doing a variety of arts and I finally got to take both Drama and Chorus this year as classes!"
Jessica Fleming (12) received Fourth Place at the Future Business Leaders of America Leadership Conference. This was held on March 6 and 7 in Reston, Virginia. She is apart of the FBLA Club here at FC and thought it would be great to go. One of the tasks she took part in was a mock job interview. Congrats for this awesome achievement!
Dom Khun (11) was named to the Nikon Emerging Photographer's Hall of Fame by Photographer's Forum Magazine. In the beginning of the school year she submitted around five photos and one of them placed! Dom said she always liked photography and finally was able to take a photography class last year and then again this year. Dom commented, "This was a great first step in the right direction for the career I hope to have." Congrats to Dom for this awesome accomplishment.
Brian Eck (12) received a patent for his cleat design. He has been written about in multiple newspapers, including The Washington Post, for his innovative idea. He came up with the idea of a cleat with a separate compartment for your big toe after seeing LaDainian "LT" Tomlinson, a San Diego Chargers running back, have a serious injury known as turf toe.  This sparked the idea of separating the big toe from the others. This gives the athlete better traction and agility. Brian has talked to multiple sport companies, including Under Armour. However, he is hoping to start his own athletic gear company and make special socks for his cleats.
Cintia Samaha (11) recently was awarded the Youth Led Mental Health Stigma Reduction Mini-Grant. Cintia, a co-founder of the Safe Place, put together a plan and application to receive money for her proposal. She was given $592 from the grant and Safe Place has also started a GoFundMe with the goal to raise $400 to improve the Senior Courtyard. Cintia said, "Although the amount seems small, it means so much to me to finally have the funds and means to implement my Safe Place Program around the school." Congrats to Cintia and all the other Safe Place founders for their hard work and success!