Volleyball Off to a Record Hot Start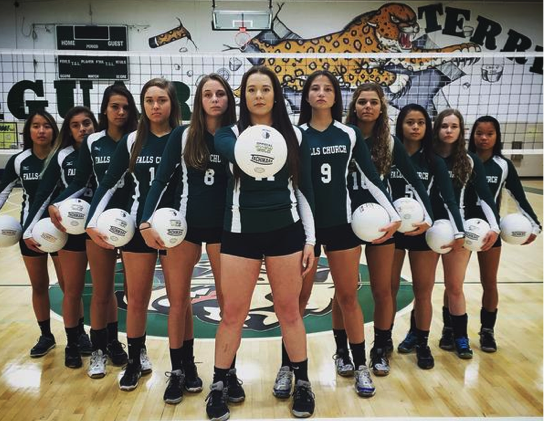 This year's Girls Varsity Volleyball team is off to its best start since 2007 with a 6-2 record. This year's success has a lot to do with the strong senior class. Senior co-captain Leann Loch says, "I think our attitude and confidence makes a big difference this year. We're aware of our talents and able to combine it all in play, so we're very eager to show other teams what we got this year!".
    Coach Kim credits this year's success to all the girls who worked hard and played in the offseason. Another component of their winning streak has been what Coach Kim described as "playing with more intensity". A lot of these girls are seniors and know that this is their last shot at winning conferences.
This success hasn't always been the case here at Falls Church. In 2003 the volleyball team won districts and were runner up in 2004. In 2005, the team still had an impressive ten wins. After those three impressive years, the volleyball program started to struggle.  From 2009-2014 the Lady Jags had seven total wins combined. This is Coach Kim's fourth season as head coach here at Falls Church; she was a part of those 2003 and 2004 teams as a player. She says, "This is the best team in FC since 2007, and I'm looking forward to a great season. This team is really surprising other volleyball programs in our conference with their talent."
The Lady Jags are on a roll right now, picking up a 3-1 win at Hayfield on September 29, and a home victory over Mount Vernon on October 1. But the Lady Jags aren't getting caught up with their recent success–they are still focused on their number one goal, winning districts. Senior co-captain Ilayda Akgul says, "We started off a lot stronger this year, and I think this season's going to be a good one."
The Jags still have some tough games ahead against schools like Marshall and Tuscarora. Other notable games are the "Think Pink" Game against Stuart, and Senior Night against Lee on October 28. This team is turning heads with their great play and look to reclaim the district title for the first time since 2003, on November 4 and 5.