FCHS Is First Va. Public School to Offer Vietnamese Course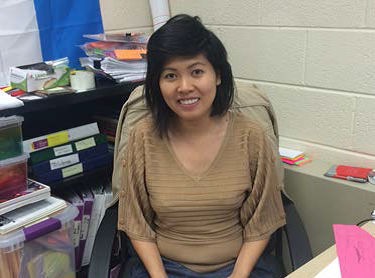 Over 5,000 students in Fairfax County speak Vietnamese as their home language. However, Virginia has never offered Vietnamese as a foreign language, until now. That's right, Fairfax County has introduced the first Vietnamese class in Virginia – and it's debuting for the first time at our very own Falls Church High School.
Vietnamese is the fourth-most spoken language in Fairfax County, following English, Spanish, and Korean. With the introduction of this class, Vietnamese will become the eleventh World Language provided by Fairfax County. There has been an overwhelming need in the community for a Vietnamese course and Falls Church is honored to be the first school to offer it.
Ms. Weiner is teaching Vietnamese 1 this year. A lot of her students speak Vietnamese at home, and want to develop their skills to communicate better with their families and community. I interviewed her to find out her thoughts on how the class is coming.
Approximately how many students do you teach?
Thirty-three.
Do you think this program is going to continue to grow?
Yes, that's the goal and that's my expectation. So far the kids show a lot of interest in learning different things, and most of them already know how to speak at home with parents but they struggle with reading and writing. Many of them come to me and say, "Oh, my parents have a restaurant or business—like a nail salon—and they want to be the owner, taking over the business in the future. But they don't know how to communicate with the customers who are mostly Vietnamese. That gives most of them a lot of motivation to learn.
Have you gotten a lot of positive feedback from this program so far?
It just started two weeks ago, and it was chaotic in the beginning because I got hired in August, and they finalized the textbook at the end of August and by now we are just in the process of making it more solid and substantial. We've been getting a lot of support from the central school district office.
Why is it necessary for FCPS to offer Vietnamese as a second language?
I think we should have offered this ten years ago, not now! You can tell there is a lot of Vietnamese population here and if you are Vietnamese and you can't speak the language, it's also a way for you to connect to your heritage. Vietnamese really value family traditions a lot and sometimes you will have a family with parents, grandparents and an uncle who live altogether in a big house, and even though they are in the U.S. I think a lot of them are keeping that tradition. The grandparents—usually they don't speak English at all—they stay in their Vietnamese community, and they only speak Vietnamese. So if the kids can speak Vietnamese they can communicate with their grandparents, and I think that could help with the family relationship also.
Brandon Trieu (9) is taking Vietnamese this year. For him, Vietnamese is a vital language to learn because he may work in his family restaurant as a server during junior or senior year.
When asked about the classroom environment he said, "We don't really care about what grade level we are, you know usually high schools have that upper-class, lower-class, but if you're Vietnamese you're Vietnamese and you're taking this language. But you don't need to be Vietnamese to take this class. Even if someone makes a mistake, yeah, we laugh about it, but we always pick each other up."