Fear Not Freshmen!
Freshmen Look Forward to High School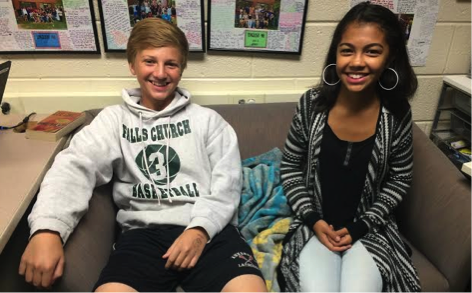 Freshman year can be both exciting and scary; you are thrown into a new building and surrounded by hundreds of people you've never seen before. However, you are also amongst many incredible opportunities to meet new people and find your passion. High school is a place where you can pursue interests in the arts, music, sports, technology, and more.
When asked about what she was looking forward to this year, Sherlyn Gol (9) said, "I'm excited for the school plays." Unfortunately, because of the lack of available spots for electives in her schedule, she was unable to join theater this year. She is still very excited to see the plays and hopes to take the class next year. Sherlyn also expressed her worries about the size of the building and claimed she got lost very easily, but was very pleased with how understanding her teachers were. It takes a little time to pick up on the tricky layout of the school. The building may seem quite large compared to most middle schools, but most hallways are dedicated to specific subjects which make it easier to locate classes.
Taylor Devlin (9) said, "I'm excited for football games and sports, especially basketball and lacrosse." One of the biggest changes entering high school is the opportunity to play on a school team.
Azzah Davis (9) said, "I'm excited for spirit week and football games." Spirit week and pep rallies are one of the most memorable times of the year and Falls Church, despite its size, has tons of school spirit.
Are freshmen required to complete four years of gym? This is one rumor that always seems to carry amongst the incoming freshman classes. The rumor is yet again, untrue. Freshman, like all the other classes, will only be required to complete two years of gym, confirms Mrs. Anderson, the school registrar, who works in Guidance.
Finally, here are some important tips to remember:
Strive to do your best academically

:  Although the grades don't seem important now, they can really help or hurt you in the next couple years. Your GPA is required when applying for colleges and you don't want a poor freshman year dragging it down.

Get involved

:  Join clubs and after school activities; they are a great way to meet new people with similar interests and can help build your time management skills.

Build a positive relationship with your class

:  Get to know the people in your grade; after all, whether you like them or not, you are stuck with these people for the next four years.