New Math Teachers Love FC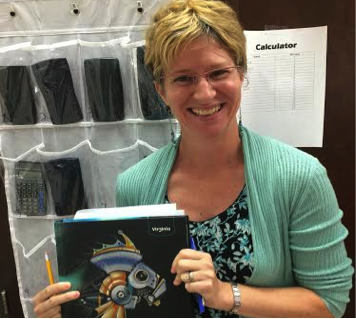 Each year, Falls Church High School welcomes a heap of new teachers into our Jaguar family, all of which are incredible individuals with quite a passion for what they do. This year our Math department was very fortunate to gain Mr. Bertha, Ms. Ratashak, and Ms. Snyder.
Mr. Bertha
Last year Falls Church was forced to say a hard goodbye to Mr. Tra, the spirited enthusiast who always encouraged his students to "Do better." In his spot, now teaching Computer Science, is Mr. Bertha, who proves to be just as fitting. Mr. Bertha, along with three other new Falls Church teachers, transferred over from West Springfield. Despite the fact it is only his second year teaching, he has already taught in multiple subjects including Geosystems, Pre-Calculus, and Computer Science.  Prior to his teaching career, he spent twenty years in the United States Air Force as a meteorologist. This invigorating experience allowed him to travel the world and live in multiple countries including Italy and Norway.
Ms. Ratashak
Teaching math at Falls Church High School has been quite a change for Ms. Ratashak, considering she spent her previous year as an English teacher in Morocco. When asked about what she liked about Falls Church so far, she said "The students; they're a lot of fun. I'm just excited to be a Jaguar!" She graduated from the University of Oklahoma and reveals that she has a passion for sewing and quilting.
Ms. Snyder
Ms. Snyder, who transferred over from Robinson Secondary School, claims she already enjoys the Falls Church environment. "The students are really nice and the school is close to my home." She teaches Algebra I and Geometry, and is pleased with her smaller class sizes. She grew up in Virginia Beach and graduated college from Virginia Tech University. Ms. Snyder is also an ardent runner as she has already ran in several marathons and half marathons.