Jags Look to Continue Success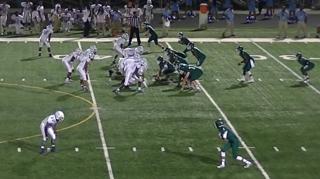 The Jags are ready to kick off a new season and get back to the winning tradition that Falls Church football has established over the last couple of seasons.  The Jags success over the last few years is a direct reflection of the hard work that is put into the offseason conditioning program and the 7-on-7 passing league that provides extra practice in the spring.  The Jags have put in the work and now it is time to do something with it as expectations are at an all-time high.  The senior class of 2016 looks to lead the Jags to victory and continue the winning tradition and pride that is being established at Falls Church.
This summer the Jags kicked off two-a-day practices on August 3 and went 1-1 in scrimmages against Park View and Stafford high schools.  The long and hot summer days of practicing, lifting weights, and watching film is what motivates the players and coaches for Friday night lights.  The Jags are led by captains Anthony Crutchfield (12), Gelsy Serrano (12), Kevyn Ventura (12), and Tyler Warren (11).  The Jags are a young team but that doesn't change the high expectations that have been set in place over the last few seasons.
The Jaguar offense is composed of a powerful running game led by Crutchfield and the strong offensive line.  The passing game is led by quarterbacks Adrian Collins (11) and Luke Saia (10) followed by a solid receiving corps led by Connor Stephens (11), Eric Brinkley (12), Anthony Ponce (11), Ivan Zelaya (12), and Tyler Reynolds (11).  The Jaguar offense is led by offensive coordinator Mr. Tim Coogan, quarterbacks coach Mr. Ryan Healy, wide receivers coach Mr. Brandon Bailey, and running backs coach Mr. Dwayne Scott.  The Jaguar offensive line is led by Gelsy Serrano (12), Victor Guevara (12), Alex Rumingan (12), Jason Sorto (10), Sean Clary (12), Omar Tamimi (10), Ricky Zamora (11), and Justin Fronda (10).  
The Jaguar defense is full of talented athletes including linebackers Tyler Warren (11), Christian Amaya (11), and Davon Marshall (10).  The Jaguar defensive line is another key component to success in the upcoming season led by Kevyn Ventura (12), Mike Williams (12), Bryan Giron (10), Keith Bell (12), Rudy Mejia (12), and Gilbert Paraoan (11).  The defensive backs are led by Christian Lee (12), Tucker Smith (12), Deontae Hargrove (11), and Michael Reid (12).  The Jaguar defense is led by head coach Mr. Said Aziz, defensive coordinator Mr. Matt Daniels, and defensive line/special teams coach Mr. David Tillery. The Jaguar defense is a blue-collar tough unit that is extremely physical when it comes to tackling.
The Jags are ready to reload after losing a lot of talent from the Class of 2015 and prove to the world that Falls Church will be legitimate contenders for many years to come.  They know meeting this goal will not come easily, because as Gelsy Serrano says, "Life doesn't give you every yard."