Cross Country Team Takes Big Win at Home Course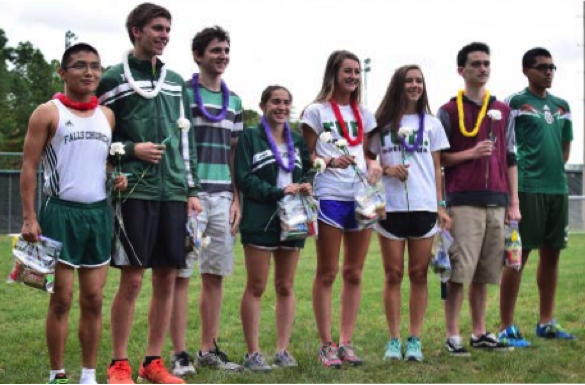 Cross Country is perhaps one of the most overlooked sports here at Falls Church, and is also one of the most physically and mentally demanding sports. In Cross Country, the rigorous training starts way back in July, and doesn't stop until roughly the beginning of November after the last meet. On average, this elite group of student athletes run approximately 3-10 miles a day, 5-6 times a week, focusing heavily on increasing cardiovascular endurance and core and ab strength.
Recently, our school's XC team took a big win at home in a dual meet against Marshall. Each year there is usually only one home meet per season, making the home meet a special occasion, especially for the seniors because that is usually when they have their senior night. Cross Country meets can be very big, sometimes having 100 schools attending a meet (although meets that large are usually held at larger areas such as parks and fields on saturdays), or very small like the recent home meet with two teams total.
A veteran varsity cross country runner Doug LeSage (12) says, "We've been training for a very long time now, and for us seniors, it was our last chance to do something great on our own turf. Although the course was flatter than most usual cross country courses, the competition was what made the race so intense. Our goal was to pack up and work together to pass people, since the other team got out pretty fast at the start. But we were able to catch up and secure the top positions to take the win!"  That strategy proved to be successful, as both the boys and girls teams finished with perfect scores of fifteen, meaning the first five runners finished in the first five positions (the lower the score the better; fifteen is the best a team can get). Only the first five runners score, so it is up to the remaining runners to pass as many opponents as possible to try and weaken the other teams' scores by taking places.
As the season comes to an end in the next few weeks, the common goal for many of the runners is to get one more personal record time. Campbell Scheuerman (12) says, "I really enjoyed the training together this summer especially in Maine and even though cross country is hard it's such a great team sport. I want to finish the season with a PR [personal record] for Burke Lake at districts." Let's finish the season strong Jags!