Are You Trying Out For a Spring Sport?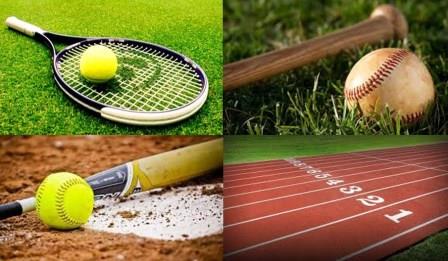 Tryouts begin this Monday, February 22 and most go through the week. All paperwork is due today, and if you don't turn them in today, you are ineligible to try out on Monday. For tryout times and locations, see the Activities' Board. Here's a reference guide to help you pick your sport and get you excited about the upcoming season!
Baseball
You should bring your hat, glove, and cleats or rubber turf shoes depending on the location. Once the season starts, there are practices six days a week with two games a week. Varsity will be going to Myrtle Beach for the spring break tournament again. This is a great week filled with baseball, warm weather, and friends. Head Varsity Coach Frank Werman is looking forward to a good season and being competitive in the conference. He also adds, "We have a young team, but a few upperclassmen who should help us be competitive."
Softball
You should bring a change of clothes for both indoor and outdoor along with all your equipment. If you do not have your own equipment, there is plenty to share! Head Varsity Coach Jamie Carfang is looking forward to building upon the skills of last year and seeing what the new players bring to the team while the upperclassmen take charge on the field. Coach Harrison added, "Success is a series of small gains and I hope that all of the girls realize how much they improved from the beginning of the season to the end of the season and with hard work we can continue to build upon those successes, but we must be dedicated!"
Tennis
Tennis has a boys' and girls' team. Both teams should bring your racket and warm clothes. The Boys' Head Varsity Coach, Coach Emarinn Oundee, coached tennis here in the past, but then left and is now back. He is excited to meet the new athletes and hone their skills. The Girls' Head Varsity Coach, Coach Ryan Kenna, is also looking forward to the season and hopes the confidence of tying in fourth will continue into this season. He hopes that the team can work hard while having fun and bonding with their teammates. He also said, "If we place in the top two in conferences, I will wear a tennis skirt to the last match!"
Track and Field
Track and Field practices are Monday through Friday, and meets are held on Saturdays. Head Varsity Coach Bobby Krause is very proud of the 15 graduated state level athletes, and felt the younger athletes really stepped up and will hopefully continue to progress. He emphasizes that "track and field is Virginia's best sport and unbelievably competitive, so if you want to compete against the best in the country, the only sport that is going to offer you that is track and field."
Boys' Lacrosse
There is an equipment handout this Saturday, February 20 at 8:30 am and athletes should bring all equipment that they have checked out to tryouts.  Boys' lacrosse practices Monday through Saturday with weight training on Saturdays. There is a full schedule again this year involving games against of the top talent in the DC area and a spring break tournament near Annapolis, Maryland. Coach Carson Dye added, "We set goals every season and last season we saw the potential of what 'could have been' and this year we look to maximize our potential and take advantage of our opportunities."
Girls' Lacrosse
New Head Varsity Coach Jessica Burke played lacrosse all throughout high school and at Oakland University for two years and then at Indiana University for two years. Everyone needs to bring their sticks and must have goggles and a mouth guard. If you have never played before, a portion of tryouts will be dedicated to learning and reinforcing basic stick skills, so players of all levels are welcome. Coach Burke is looking forward to a great season and, "wants to create a fun team environment, so that everyone genuinely enjoys coming to practice every day." To get updates on the Girls' Lacrosse program, follow @FC_GLAX on Twitter!
Boys' Soccer
Coach Joel Harrop is the new Head Varsity Coach and he's ready for a season full of winning. Depending on the weather, you should bring shoes if it is indoors and bring cleats if it is outdoors in the field. His goal is to win Conferences and to make Boys' Soccer the leading sport at Falls Church this year and for years to come. He believes "there is no reason to come to tryouts if you can't gave me 100% 24/7. You need to take care of school work and everything at home, so you can perform at your highest standard." To get updates on the Boys' Soccer program, follow @fcjagssoccer on Twitter!
Girls' Soccer
Head Varsity Coach James Clark felt that the Varsity girls really began to play as a team last season, which translated into finishing third in the conference and going to Regionals. He believes it is a very exciting time for Girls' Soccer here with the JV team having a winning record, and some of those athletes contributing on Varsity this season. Coach Clark believes "that with hard work, the team could win conferences, and move far into the post season. I look forward to meeting new faces and building a team that FCHS will be proud of."