Club of the Month: Young Democrats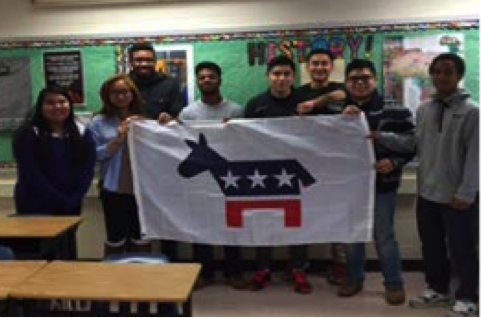 2016 is an important year for politics, as we choose who our next president will be. Many students here at FCHS are interested in politics, and some are members of the Young Democrats Club, which is sponsored by Ms. Jones, who is a World History I and World History II Honors teacher.  The President of the Young Democrats is Thomas Woldemariam (12).  The Vice Presidents are Zach Zepp (11) and Dat Ton (11).
"I was chosen president through an election. The club's annual elections are run like a direct democracy; one person equals one vote," says Thomas. "The club's main purpose is to foster political activism among the members and to produce a politically educated Democratic voting bloc."
There are many benefits of joining a club, most specifically that it looks good on your college résumé. But, it also gives you a certain role like leadership and other important factors. "Members benefit from our club in that they learn leadership, become politically active and meet civic responsibility," says Thomas.
Having Ms. Jones as the club sponsor has created some ambitious goals for this team of wise students.  They debate the Young Republicans club three or four times a year.  "The Young Democrats Club does several things—we are very involved in volunteering. So far this year we have worked with the Young Republicans Club to make a goodie bag for Fairfax County police officers.  Another one is that we will be raising money for Leukemia Lymphoma cancer.  We sponsored the Toys for Tots before Christmas also.
"In our debates we talk about issues that will be relevant in the campaign. Some of the issues we've talked about in the past have been marijuana reform, immigration, and economy problems. We have also talked about abortion and gun control. Gun control is always a really big topic. So we really try to be 50/50 of volunteer service clubs that help the community and a debating club."
This club has a great team of hard workers throughout the year.  While I was in their meeting, they were focused and getting ready for the upcoming debate. These were dedicated students and team members. Best of luck to the Young Democrat Club and the rest of the great clubs out there!