How Does Soccer Look for 2016?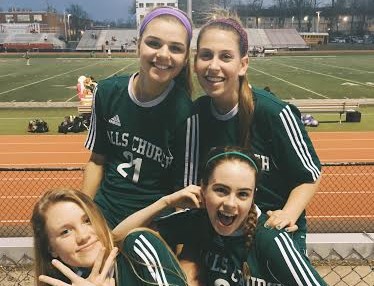 It's an anxious time in the Falls Church Boys Soccer program. This is the first year for new head coach, Mr. Joel Harrop, the technology support specialist here at Falls Church.  There were over 100 kids trying out this year, which was even better than in years past.  Falls Church Boys Soccer has had some success in the past.  In 2014, the Jags won the conference, while in 2015 they weren't able to finish with quite the same success.  With the loss of last year's senior and Virginia Tech commit, Will Mejia, the Jags will have to find a way to keep progressing.
The boys will play their usual 13 regular season games, and then Conference 13 playoffs will follow.  Last year, the Jags lost to Mount Vernon in the first round, but in 2014 the Jags won the conference and hosted a home regional game.  The ups and downs of the program between the past two years, makes for this season to be one to keep an eye on.  With a new coach and the loss of Mejia, the Jags may have an extra eye on them from other conference teams.
Nonetheless, this year's group is an eager young bunch is ready to roll.  They had off-season workouts and conditioning which the players know will pay off in the long run.  These players have worked hard and are ready to start playing.  Returning varsity sophomore, Paul Green, said "Soccer isn't something that you can fake, it's a feeling, a passion, a lifestyle."
The Girls Varsity Soccer program here at Falls Church is the top dog heading into this season.  Back in 2014, the girls struggled in a 1-11-1 season.  However in 2015, the girls were one of the top in the conference with a 6-8-1 record.  The Jags made it past the first round of conference playoffs, but then fell to Marshall in the semifinals.  
The Girls program has a very bright future, as many of their players are only sophomore and juniors.  Junior Alexa Anderson, already a Virginia Tech commit, said "I've got a lot of confidence in the team this year, and I hope our team goes really far."