Boys Soccer Team Looks Forward to Final Games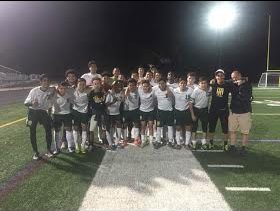 Despite their tough losses against teams such as Mount Vernon and Tuscarora, the boys varsity soccer team continues to fight, hoping for a successful ending to the season. The team currently holds a 2-6-1 record, but hopes to pull out more wins with the remaining games left in the season. The team suffered losses by only one goal in the games against Edison and Thomas Jefferson, both of which were 1-0 losses, and could have just as easily gone the other way.
Senior striker Ashraf Kabbaj said, "The Edison game was one to remember. Even though we did not get the result we had hoped for, we played with our hearts and our performance was one of the best of the season so far." Kabbaj, speaking for the team, expressed that they all look forward to the rest of their season and hope that some of the closer outcomes will fall in their favor. The March 31 Edison game, regardless of its outcome, is one the team hopes to build off of. Their unfettered drive and relentless fight, remind them all they are a part of the team for the same reason—to compete and to win.
Earlier in the season, the boys were able to pull out an incredible 3-0 victory on March 16 against Potomac Falls. Senior goalie Rodrigo Maranon protected the net and preserved the shutout. Looking back on the performance, he said, "Everyone saw us as the underdogs and most were sure that we were going to lose. They were wrong; we ended up outperforming Potomac Falls and won the game 3-0." Maranon also expressed that he felt the win was important because it was early in the season and helped to build their confidence for the games that would follow.
For many members of the team, it is their final year playing. Maranon is enthusiastic for the rest of the season, but also takes his last year as very bittersweet. "I've been looking forward to my senior year season ever since I was a freshman, but it's so sad to think how it's all going to come to an end in just a matter of a few weeks."
Kabbaj, who is also playing his last year as a Falls Church Jaguar says, "Honestly, I am really excited because it's my last year playing high school soccer. Every time I step onto the field, everything unrelated to soccer goes away and the only thing I think about is the game. Soccer is much more than one ball and two goals; it connects people from all over the world."
Although all the early games weren't what the team had hoped for, they are determined to turn things around and find a rhythm for the upcoming games.