Jaguar Football Working Hard For Next Year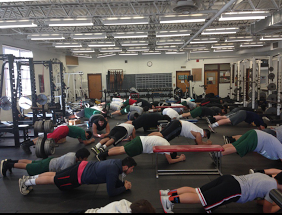 Jaguar football has been working hard all offseason and spring workouts are just around the corner.  The team has been grinding in the weight room since late November and now that spring has come around, passing league is getting into the swing of things and the team is beginning to play against other high schools on Sunday afternoons.  The rising seniors, including Anthony Ponce (11), Tyler Warren (11), Deontae Hargrove (11), Adrian Collins (11), Ricky Zamora (11), Connor Stephens (11), and Stephen Roxbrough (11), are looking to live up to the hype and put together a winning season this fall.  
Passing league has started their spring season with a 5-1 record because of a defense that has been playing with a lot of energy and intensity and an offense that has been efficient and explosive.  Ponce says, "Success on the field comes directly from hard work in the weight room but not only have the skill players been working hard, but the offensive and defensive lines have been grinding and getting stronger every single day."
Passing league is two-hand touch football not including offensive and defensive lineman.  Even though they don't participate in passing league, Coach Coogan and Coach Tillery have been pushing them to get stronger and come together as a unit.
The Jags have two returning quarterbacks, Luke Saia (10) and Conley Ku (9).  Saia will be returning for his third season with the Jaguars and his second season with the Varsity team.  Saia started for a majority of the season in 2015 and he says, "It was great having a year under my belt because of the level of comfort I have with all of my teammates.  It's also hard being a leader and having guys believe in you as a sophomore stepping in.  By the end of the season I started feeling a lot more confident on the field and gained more support.  This year we're a really tight knit group and we push each other to get better and we're all really excited for next season."
Overall, the Jags look to improve tremendously in 2016 and it all begins in the offseason.  This offseason will be a huge factor for the Jags in 2016, and in order for the team to get better as a unit, they need to have everyone in the weight room striving to get better.