World History Teacher, World Traveler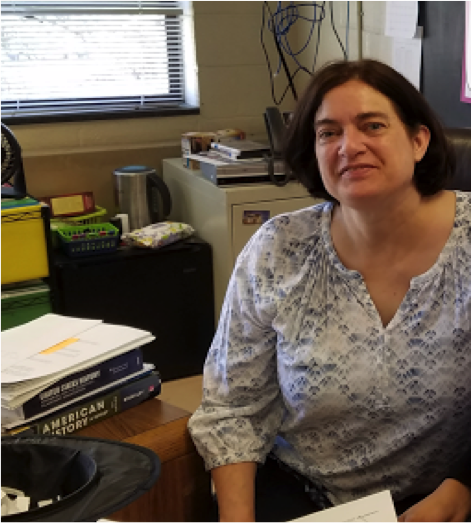 Mrs. Draschner teaches in the history department at Falls Church High School, but how well do you know her?  I had a chance to sit down with her recently and get to know her a little better.
Mrs. Draschner seemed gratified that I wanted to interview her and the staff of The Jagwire and I were just as happy that she agreed. We also would like to thank her for being extremely kind, sharing, and very helpful throughout the interview, it was one of the nicer encounters I had with a teacher at this school.
Mrs. Draschner grew up in Connecticut throughout her childhood until she came to D.C. to attend college at American University for her undergraduate degree.  She stayed on here in the area for her graduate degree at Georgetown University.  She always seemed interested in traveling and finally had the chance to do so after graduating from college. Mrs. Draschner has been all over the globe, visiting such places as Russia and parts of Asia, but she plans to continue traveling more in the future.  Over the summer she plans on seeing family in Miami and New England.
In addition to helping kids at school, she is a mother to a daughter and three boys. One of her children is also interested in history and they go on trips to museums often.
Mrs. Draschner has been teaching for seven years altogether, six of which have been at Falls Church High School, after her one year at South County High School. Her passion to teach and to keep teaching is the students, especially teaching tough classes that require hard work such as AP US History and World History I Honors. She enjoys seeing the students succeed and achieving the satisfaction of completing tough work.
One of the reasons why she has chosen to stay on as a teacher at Falls Church High school is our diversity. As we know, Falls Church is really diverse which we all appreciate and the school welcomes. Being an avid traveler, she said, "You don't see that everywhere," so she appreciates it.  Thanks to Mrs. Draschner for the interview and we hope for the best for her future.