A New Year Brings One of Many New Math Teachers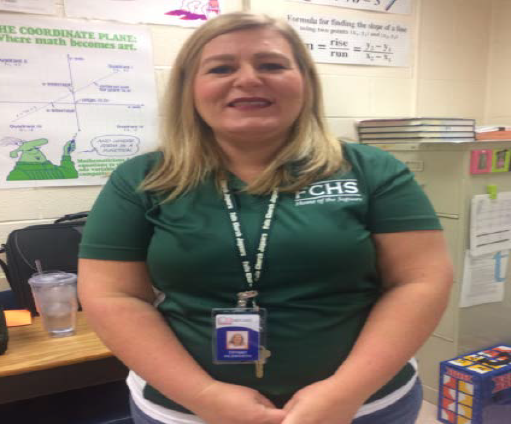 As students get situated into their classes for the rest of the year and familiarize themselves with their daily routines, some teachers find themselves doing the same. For Mrs. Ailsworth, a math teacher at FCHS that teaches Geometry Honors and Algebra I, the 2016-2017 school year is her very first. Mrs. Ailsworth hasn't done much wandering out of her classroom, but she is looking forward to getting a chance to, specifically getting an opportunity to stop by the cafeteria. Not only is Mrs. Ailsworth new to FCHS, but she is also in not very well known territory when it comes to the Falls Church community. She has experienced a vast change in environment. Mrs. Ailsworth has moved from a school of low income and a high poverty rate in Arkansas, to the busy and jam-packed halls of Falls Church High School.
Mrs. Ailsworth loves that FCHS consists of students that are both respectful and come to class excited to learn. At her old school, the ethnicities of students weren't nearly as close to the differentiating races found at FCHS. 95% of the students she had previously taught fell into one  single race. "I'm excited to be here. I'm excited about the  change. I love it!" states Mrs. Ailsworth.
Mrs. Ailsworth graduated from the University of Arkansas with a bachelor degree in math and a master's degree in secondary ED. After college, Mrs. Ailsworth was sure that teaching was the perfect job for her. She has been teaching for 12 years now. If Mrs. Ailswoth were to describe herself in five words, she'd choose the words: organized, creative, dependable, honest, and hardworking. During her free time, she enjoys spending time with her family members. Activities that they do together are traveling with Zaylor, her oldest daughter, to ball tournaments over the weekend and taking trips to the park or trails. After school, Mrs. Ailsowth is easily occupied with taking care of and chasing around three kids. So far, Mrs. Ailsworth has really enjoyed the change in lifestyle from Arkansas to Virginia.