Black Friday: Is It All Worth It to Save A Few Dollars?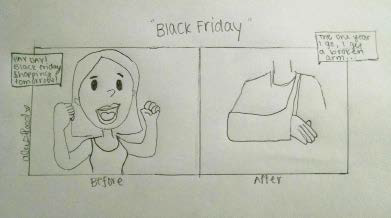 With Black Friday on the way,                                                                                                                                                     major store retailers are trying to
make a huge impact on their customers
in order to make valuable sales.
Black Friday is the day after Thanksgiving
in which people wait outside
retailers to get reasonable discounts
on products. Black Friday has been
controversial in the past because it
led to people fighting, stealing, and
has caused multiple deaths and injuries.
Some places have taken a stand
and refused to participate in Black
Friday's violence and chaos; the Mall
of America is a notable place that is
refusing to open its doors on Black
Friday.
It's astonishing to see how
much money is spent during this holiday,
an estimated 67 billion dollars
was spent in-store while almost 3 billion
dollars was spent online with the
average consumer spending $403.35
in 2015.
Fawaz Omar (9) says, "Black
Friday is very wild and very dangerous
because you can get yourself hurt
in that situation. I will not participate
this year due to the major risks." Herson
Ventura (9) says, "I think Black                                                                                                                                                       Friday is a good day for savings but it comes with a lot
of disadvantages that could be a deal breaker for some
consumers, such as long lines, fighting over products,
and a lack of open parking spaces."
Algebra teacher Ms. Samayoa says, "I think
Black Friday is very beneficial for the companies, retailers,
and stores to get their products out there for
people to buy and it can get very interesting with fights
and arguments." Since 2006, there have been a reported
98 injuries and 7 deaths with a majority of those
injuries and deaths coming from Walmart. This number
is expected to rise through the years even though
Cyber Monday is becoming more popular and appealing                                                                                                             to customers who prefer not having to fight over
discounted products.
Black Friday is becoming more popular every
year thanks the fact that it is spreading to other
countries and continents, even as far as Australia.
Black Friday has become so popular that even major
companies like Amazon are having Black Friday
sales in July, calling it "Amazon Prime Day,"
in which they claim to have better sales then Black
Friday, other companies and retailers have followed
Amazon's attempt to make profits in July. If you're
going to shop on Black Friday, stay safe and if you
don't get the product you want, just wait for Cyber
Monday or Christmas.