Trackstars Eager to Hit the Ground Running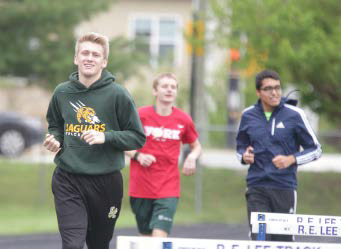 The start of a new season of winter track
has begun. This year's runners are eager to get off
to a great start this season and improve on last
year's fantastic season. Last year the girls came in
fifth, and the boys came in fourth in conference
play. They also sent four people to state last year,
and they are looking forward to sending even
more runners to state this upcoming season.
Jonathan Moore (11) is running his third
year of winter track, and he is looking forward
to the new year and has expectations for this upcoming
season. He said, "This season our goal is
simply to put everything on the table and strive to
exceed all of our limits."
Last year's team lost many of the seniors
that fueled their success in the 2015-16 campaign.
Despite losing a lot of seniors from last year, the
team expects to replenish this year with a strong
freshman class.
Marcus Roussey (11) thinks the winter
track team is going to have a very strong freshman
class of runners. He said, "I think the team will do
pretty well, we have a lot of new freshman talent
this year with still a fair mix of returning varsity
runners." Marcus also has some goals for this
upcoming season. He said, "I want to lower my
times, of course, particularly in the 1000 meter,
since that is a winter track exclusive event. Along
with the 1000 meter I also run on the 4×400 meter
relay, the 4×800 meter relay teams, 1600 meter
(the mile), and the 800 meter dash. I also want to
improve on those times." In each winter track meet there are 17
different events. There are a variety of competitions
for the athletes to participate in.
Runners can compete in distances as long as a
mile (1600 meters) and they can also compete
in very short races like the 55-meter race. Besides participating in sprints and long
distance races, athletes can compete in field
events. Examples of these events are the shot put,
long jump, and hurdles. This year is going to be
very exciting for our runners and going to produce
great results.