Returning Varsity Starters Ready to Hit the Court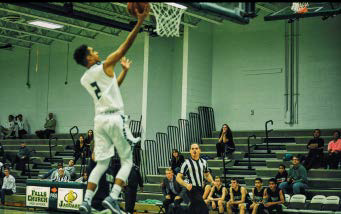 The basketball season is coming right
around the corner. For the girls, coming off a
regional playoff visit losing to Broad Run in a
close, hard-fought game, the team is looking
to repeat and go even further in the playoffs.
The boys have Coach Gaunt, now entering
his second year, leading the way with a lot
of returning varsity players with young, rising
talent. A strong senior class leading the
way for both these teams is also valued by the
youthful players helping both teams to a successful
year.
Mia Pendleton (11), a third year varsity
player, is hopeful for a great year and
progressing as a team. "I have set goals for
myself and for my teammates. I would like to
progress as a team, and as a player. Last year
making regionals was a great accomplishment
for us. I would love to have a chance to
win the conference and make it farther into
the playoffs and start the season with a big
bang." Mia, one of the team leaders, is looking
for major contributions from this year's
deep roster which is made up of an experienced
group of substitutes.
Tyler Reynolds (12) is a senior standout
in football, in the classroom, and on the
basketball court. He is looking for a bounceback
season and trusts Coach Gaunt and his
coaching staff to help them with that. "Last
year was obviously a disappointing year only winning a single game and exiting after the first
round of the conference playoffs. This year we
have big expectations for an experienced senior
class and great, young talent. We hope for a successful
year and I trust our coaches to make us
do just that."
Both teams have high expectations
for themselves and both squads are looking to improve overall. With some experience for both
varsity rosters and a great coaching staff for both
teams to support their goals, it is likely that both
teams' goals will be achieved. Their team leaders
should help them work toward fulfilling their goals
and in doing so, make a positive statement about
the progress of Jaguar basketball.