The Dance Team Leaps into the New Season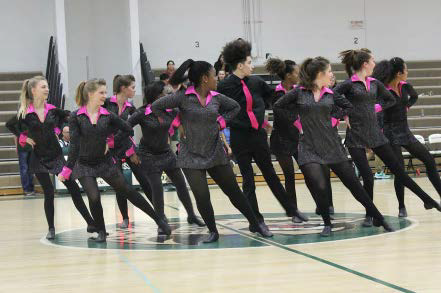 The FCHS dance team has just
what it takes to bring about passion, the
drive to succeed, a team effort, and most
importantly, lots of fun. As many winter
sports start up, the dance team is definitely
one that stands out. What makes
the team stand out? The heart and unconditional
dedication of the dancers has
become evident throughout the seasons.
The team maintains the perfect balance
between work and fun.
Ms. Chagnon works alongside Ms.
Zimmerman to coach the dance team. The
interest meeting for the team was held
during the first week of November. In order
to have made it on the team, anyone
interested must've attend all three days
of tryouts, submitted all required paperwork
on file in the Student Activities Office,
have had some dance experience, and
have presented themselves with a positive
attitude.
Being on the FCHS dance team is
a great way to make new friends and gives
members the opportunity to express their
school spirit. Every season, about 12 to 14
people make up the team. Dancers practice
every day after school for about two
hours on a regular basis. "We get started
with a warm-up and stretch. Then we start learning a new routine or perfecting one dancers
have already learned, and end practice with any
reminders or announcements," explains Ms. Chagnon.
The dance team is different from other winter
sports because dancers only compete once or
twice, rather than every week. Dancers wear uniforms
that change each year depending on the song
the team performs. They mainly perform at boys
and girls varsity basketball games, but participate in
local competitions as well. This past year, the team
got 2nd Place at the Gar-Field Dance Team Invitational this past year.
"I decided to coach the dance team because
dance has been a part of my life since I was two and
I wanted to share my dance knowledge with the students
on the team," states Ms. Chagnon. Her goals
for this season are for dancers to work together, be
strong performers, and for them to give it their all
at competitions. Students that are not on the team
are encouraged to come out and support the dance
team at any home basketball games. As many winter
sports commence, the team hopes to dance their
way into the season with a bang!