Bachelorette of the Month: Daniela Arosemena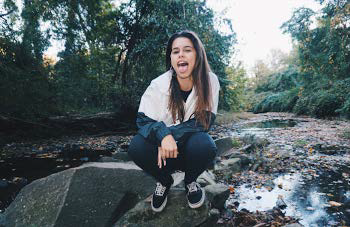 This issue's Bachelorette of the
Month is the fantastic Daniela Arosemena
(10). Daniela is considered to be one
of the happiest people here. Throughout
the day you can be sure to see her in the
halls spreading joy with her jokes and
laughter. Daniela is heavily involved with
the Falls Church community. She participates
in three sports including varsity
cheerleading, dance team, and gymnastics.
Her favorite of the three is cheerleading
although the other two are not
too far behind. Daniela is full of talent
and skill, and is a natural-born performer
as seen in her cheerleading and dance.
In the classroom Daniela is a hard worker
and excels in all of her subjects. Achieving
all A's and B's, her teachers regard her
as a delight to have in the classroom.
In her free time Daniela loves to
hang out with her best friend Azzah Davis
(10). The two of them love to go shopping,
watch movies, listen to music, and
just talk about life. When she is not hanging
out with one of her many friends, you
can catch her watching sports. Her favorite
sport to watch is football, and her
favorite football team is the Washington
Redskins. You could even go as far and
call her a die-hard fan. Daniela is also a
connoisseur of food. Some of her favorites
include classic Italian pizza, and fresh
pasta. She is all about that classic Italian food and she doesn't mess with that fake processed
stuff.
Daniela has a huge family, consisting of
six brothers and one sister whom she all loves
dearly. She also has a dog named Lincoln and
a cat named Simba that she loves with all her
heart. In the future Daniela plans to attend college,
some options that she is considering include New York University and the University of Central
Florida. Daniela doesn't have a definitive plan for
what she will study in college, but she is considering the
idea of becoming a veterinarian because of her love for
all animals. Daniela is one of the most enthusiastic and
influential people at Falls Church, and don't forget, she
is single and ready to mingle.