Get to Know More About Our New Secretary of Education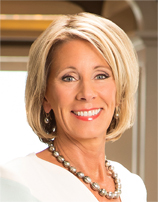 One of president-elect Donald Trump's early jobs will be to appoint a variety of advisors to different cabinet positions. The primary roles of these advisors will be to administer the departments that they have been appointed to oversee, and to give Trump advice on different policy decisions. These fields encompass both foreign and domestic matters, which includes positions such as secretaries of State, Defense, Treasury, Veterans Affairs, Transportation, and what is perhaps most applicable to FCPS, the Secretary of Education. Here is a guide to help explain the role of the Secretary of Education, and elaborate on how Trump's selection might affect the school and FCPS in general.
What are the roles of the Secretary of Education? The secretary's role is to ensure that all students have equal access to quality education by keeping the president informed on all matters concerning American education system. Record-keeping of statistics related to the Department of Education, as well as providing different solutions to problems identified. The Secretary of Education also oversees the office of Federal Student Aid, which provides financial assistance to college kids who qualify for help.
Who did Trump nominate to serve as Secretary of Education? Betsy DeVos will serve as the Secretary of Education under Trump's cabinet, assuming she is confirmed by the U.S. Senate. She is a mother of four, and has five grandchildren with her husband Dick DeVos. A wealthy entrepreneur from Michigan, she has been elected as chairman of the Michigan Republican Party four times, and is currently serving as chairman of the American Federation of Children. A strong advocate of individual school choice, DeVos has been skeptical of traditional public school formats.  In contrast, she favors of a more localized system of education, that doesn't rely as heavily on the national government.
How could her nomination affect Falls Church? It is unclear just how much DeVos and Trump plan to change the American education system; little policy positions have been clarified concerning the Department of Education. However, in announcing his nomination for DeVos, Trump stated that "we will reform the U.S. education system and break the bureaucracy that is holding our children back so that we can deliver world-class education and school choice to all families." With that in mind, in addition to the fact that she supports a more localized system of education, we might be able to infer that DeVos and Trump plan to decrease the Federal Government's role in education. We might see less focus on the Common Core system practiced in many states, as well as less emphasis on national and state level standardized tests such as the SOL.