Students Step Into Director's Shoes for Theatre's One Acts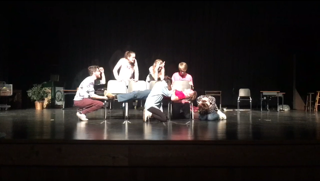 On Friday, January 27, Falls Church
High School's Spratley Auditorium was filled
with laughter, suspense, and even a couple of
tears by the end of the night. That day, the theatre
department performed its student directed
one acts in the auditorium from 7pm to 10pm.
Admission was free and the night kicked off
with three comical acts, was followed by a quick
intermission, and was wrapped up with two dramatic
one acts. What makes student directed
one acts different from regular one to two hour
plays? Student directed one acts help actors get
a sense of what it's like to take part in a small
production in order to gain experience needed
for much larger shows.
This year, four upperclassmen were chosen
to be student directors, who had the task of
choosing an act and auditioning students interested
in becoming a cast member. From there,
student directors created their casts and began
preparations of all sorts. Director of "Endangered
Species: Waking Up," Trisha Nguyen (11),
said, "I wouldn't say the one acts were difficult
to direct, but they were definitely a lot of work.
It was a learning experience for everyone. It was
a great feeling to see it all come together with
the developments we had been working on since
day one of rehearsing."
To prepare for the one acts, the cast had a
little less than a month to bring everything ranging
from lights, to sound, to costume together. In
the order of which they were performed, the student
directed one acts were "Me and My Shadow,"                                                                                                                                 "10 Ways to Survive the Zombie Apocalypse,"
"AP Theatre," "Will," and "Endangered Species:
Waking Up". In "10 Ways to Survive the Zombie
Apocalypse," the audience was informed of
lighthearted, comedic approaches that could
be taken to survive a zombie apocalypse. On
the other hand, "Endangered Species: Waking
Up" contained mature content, speaking up
about the prejudice and mistreatment people
with HIV face. Dolly Lebow (9), who acted in
three different one acts, commented on her ex-                                                                                                                   perience with, "The process made me a lot more
self-dependent and it was overall more relaxing,
making the experience more enjoyable for me."
Danielle Phan (11), who took part in two different
plays, thought the best part of the acts was
that students got a chance to put their own twist
on the plays. All student directed one acts were
huge hits with the audience. Audience member
Rachel Le (9) thought that "the directors did a
really good job and the execution of the plays
was really creative!"