How is Your Favorite Jag Sports Team Doing?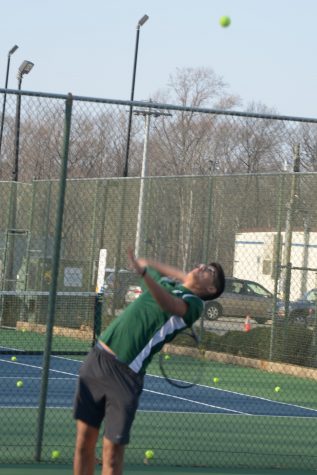 Last year was a record-setting sports
season for many teams. In 2016, the boys
soccer team made an incredible run capturing
a Conference 13 championship on its way
to being the runner up in Virginia 5A class.
While that happened, the boys baseball team
won nine games which hasn't happened in
over ten years. Boys and girls lacrosse are
both looking for bounce-back seasons. Girls
soccer is looking to expand their regional run
by Virginia Tech commit, and also senior captain,
Alexa Anderson (12). The softball team
is looking to improve in different aspects of
the sport and win more games. While track
and field lost some key athletes, they also have
many on the rise to becoming a top team in
Conference 13.
Girls/ Boys Lacrosse
Returning varsity starter Olivia Rogers
(11) is a key player to the team's success. "A
one win start wasn't the start we were hoping
for. Against Fairfax, we were in it throughout
the whole game. Against a strong 6A school, it
was a good start," she said. Luke McLean (11),
a 2nd team all-conference member last year,
wants to surprise his team's rivals and make it
to the conference championship. "We have a
lot of talent returning this year. Our big goal
is to reach regionals and create a winning atmosphere
in the locker room. We have started
out with 3 losses but we have fought in each
game."
Boys & Girls Track & Field
Losing key positions shouldn't affect
the experience that some athletes may have. "We did lose quite a lot of athletes last year,
but we do have many experienced people
ready to take that jump to the next level. We
should be competitive in every meet," said
Johnny Coppolla (12).
Softball
The softball team has a lot of returning
talent. Facing a tough conference, Marshall
is the hardest team they should play all
season. "Marshall has owned the conference
these past few years. I think coming in as the
underdogs is nice. We have nothing to lose
against them. If we go out and do our thing,
we should win a lot of games," said Olivia Stevenson
(12).
Baseball
After a nine win season this past year,
the baseball team is looking to improve to
qualify for regionals for the first time in over
10 years! "I feel like this is going to be a special
year. We have all the talent we need to be a
serious contender in the conference. As long
as we can keep improving day by day, we can
make some noise in the conference. A 3-1
start is a great beginning to our journey," said
Max Miller (12).
Boys/ Girls Soccer
After a States appearance for the boys,
Paul Green(11) expects to make another trip
to states. "I think this years team is as good
as last years. We could win states this year for
sure." Girls soccer would like to extend their
regional run for the seniors who will be graduating
in June. "We have a strong group of leaders
on this roster. It is one of our goals to make regionals
to extend our streak as well," said Carly
Boyd(11).