Falls Church: Underfunded but Unfazed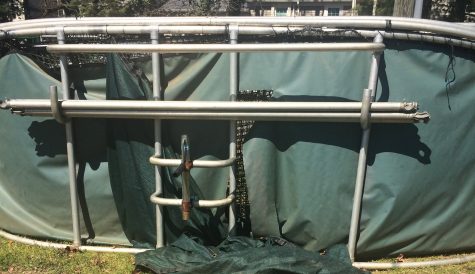 Despite being in one of the wealthiest
counties in the United States, Falls Church High
School seems to get the short end of the stick in
terms of renovation and modernization funding.
Between the rickety air conditioning unit
and the faulty plumbing, there is plenty of room
for improvement. A little money could go a long
way, but it seems schools like Marshall, Robinson,
and McLean get more than enough while
we're left with two broken sinks for every working
one. While high schools in Fairfax County
all receive a similar base funding for the basic
necessities, renovations come straight from the
county.
While Falls Church High School's student
population is very tight-knit, its economically
diverse nature also means there is less money
donated from parents and alumni. For instance,
while at McLean High School boosters generally
raise at or above $200,000 per year, Falls Church
boosters raise less than half of that. This is not an
attack on our boosters who, led by the outstanding
Paul Bruning, work their hardest to fund
our athletics. Rather, this shows why schools
that happen to be in wealthier areas of Northern
Virginia always have much nicer equipment and
facilities than Falls Church High School. Schools
are left to raise money on their own for much
of their extracurricular activities, and it seems
there is more than just a small disparity between
schools. Despite these difficulties, Falls Church students
remain unfazed by the lack of funding. As Steven
Huddleston (12) said, "While we may not
have the nicest school or the nicest equipment,
we have the most heart of any school in the county."
This seems to be a recurring theme for Falls
Church students. The Falls Church way has be come to "just deal with it." Maybe at another
school these issues would be overwhelming,
but to Falls Church students, it's just another
day. Despite not being renovated in over 50
years, and probably not getting a renovation in
the next five, the school still stands and so does
its students' spirit.