Teacher Feature: Ms. Kassem of the Phys Ed Department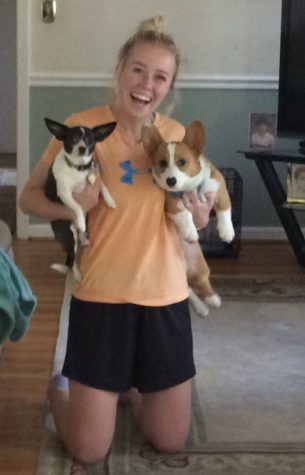 You might recognize Ms. Kassem
around the halls at Falls Church
High School. With her friendly smile
and trademarked positive attitude, it's
impossible to miss her around here.
This is her first full time year as a P.E.
teacher here at Falls Church, as she
joined the P.E. and Health staff in the
middle of the year last year, teaching
10th graders, but this year, she has the
opportunity to work with 9th graders,
too.
Ms. Kassem was born in
Washington D.C. around the Georgetown
area and attended George Mason
University. She is currently working
on her master's degree and she
plans on getting her PhD in education.
Ms. Kassem says that she can see
herself as a teacher at Falls Church for
maybe 10 years.
Ms. Kassem didn't always
want to be a teacher—she wanted to
be like the lawyer Elle Woods from
Legally Blonde but Ms. Kassem says
that one of the reasons why she went
into P.E. and health was "I had a P.E.
teacher in high school who was also
my field hockey coach and she has
been one of the biggest inspirations
of my life." She prefers P.E. over health
because she likes being able to be active
and interact with all of her students and promoting an active lifestyle
and having fun.
Ms. Kassem owns a corgi named
Louie and one of her future goals is that
she will try to travel to every continent
with Louie so that he can see them all.
Her hobbies include yoga, working out,
hanging out with her friends, spending
money on food and experiences.
Ms. Kassem's favorite restaurant
is Chipotle and her favorite meal there
is guacamole and chicken. One of her
hidden talents is that she can play the
ukulele. Ms. Kassem credits her success
as a P.E. teacher with always radiating
positivity and being relatable with most
of her students.
Claudia Flores (9) says about
Ms. Kassem that "She's funny, she's
quirky, she's really sweet all of the time,
she always gives me great advice, she's
good at teaching, she's really pretty, she
says weird things, she gives me great advice,
she's good at teaching, she's relatable,
she's also pretty sure so she makes
me feel good and she's inspired me during
wrestling season.
Despite the fact that this is only
her second year, it seems like Ms. Kassem
has had a positive effect on her students
as we will be happy to have her
around for the upcoming years.