Pet of the Month: Sarah Mack's Mutt Tucker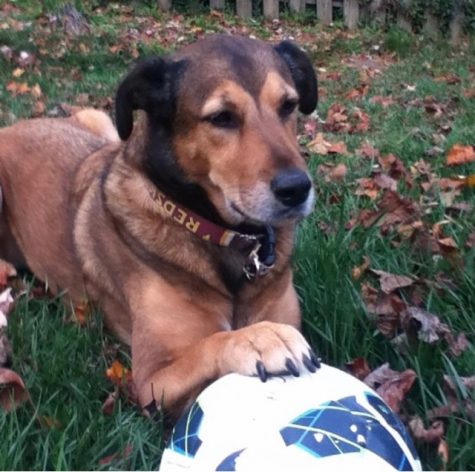 This edition of Pet of the Month highlights
one of the most handsome canines in the
school. Tucker is a nine-year-old mixed breed
and about the size of a small deer. He has a beautiful,
brown coat that feels like freshly cut grass.
He is known in his neighborhood as one of the
most mature and respectful dogs.
Tucker's owners, the Macks, speak with
only the highest regard for him. Sarah Mack (9),
one of Tucker's closest companions, had nothing
but nice words for her favorite dog: "Tucker is the
sweetest and most loyal dog on the planet." She
also mentioned how intelligent Tucker is. One
of his most impressive skills is his ability to open
and close doors. It is truly an incredible sight to
see; Tucker is able to use his front legs to open
the door, then use his strength to push the door
closed with his body. This saves the Macks from
walking all the way to their backdoor to close it.
Some of Tucker's favorite things include
the springtime, getting attention from his family,
as well as puppies. During the spring, he thoroughly
likes going for walks. He generally gets
walked every morning and afternoon.
Upon first glance, Tucker may seem like
your classic, traditional dog. However, Tucker
has some unique features that are not shared
by most other dogs. First of all, Tucker doesn't
seem to mind thunderstorms at all. Another undog-like characteristic Tucker has is his behavior
arounds cats. Many dogs are automatically
triggered at the sight of a cat, but Tucker doesn't
mind them at all. In fact, he deals with cats on a
daily basis as the Macks have two of them.
Tucker has some more unique traits that
make him the special dog he is. Despite his size, he loves to pretend to be a lap dog and curl up
on the couch or bed with his family. Tucker absolutely
loves to get attention from anyone, and
to get pet as much as possible.
Overall, Tucker is one of the sweetest
dogs you could ask for. He is dashingly handsome,
very lovable, and truly a man's best friend.