Bachelor of the Month: Chris Osorio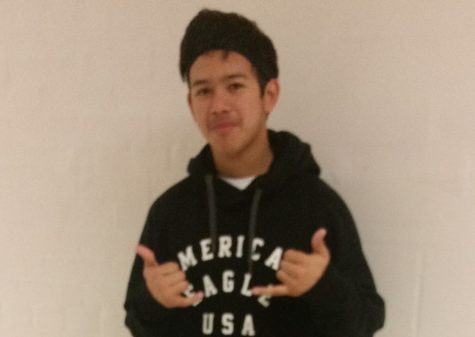 It is spring time, the time of year to
begin something new. Some people start
new jobs, they start to change their study
habits, but others might take the chance to
start a dating relationship with someone.
Without a doubt it can be a challenge to
find that special someone, but Christian
Osorio (9) has allowed me to ask him a
few questions to get to know him better as
a person. Ladies…could he be the one for
you?
What's your full name?
Chris Misael Ordonez Osorio
What is your favorite type of food?
My favorite type of food has to be Peruvian
chicken. I enjoy eating it because I've
been eating it for most of my life.
What's your favorite clothing brand?
I have to say, my favorite brand would
have to be where I go often, American
Eagle. I like how the clothes there fit my
style and comfort.
So when you unwind, what type of music
do you listen to?
I've got to say I enjoy listening to rock,
and rap. My favorite artist would have to
be with out a doubt Drake. What's your favorite type of show to watch?
I enjoy watching the show Two and a Half
Men, I find the show to be super hilarious.
Have you ever had a big accomplishment of
any kind?
To be honest, not really, but I am looking forward
to branching myself out of my comfort
zone in my four years of high school.
What do you find in a girl?
She would have to be beautiful, and would
have to have a great personality. You know,
someone who I can enjoy talking to.
So where would you take your girl on the first
date?
I would take my date to Mosaic, why? Because
I would take her to the movies at Angelika
Theatre. Then I would treat her to Chipotle
right next door to the theatre.
How would you describe yourself?
I would say I'm handsome (obviously), funny,
smart, caring, and sometimes lazy.
Chris is someone who can turn a sad moment
into a joyful moment. He just has that
optimistic atmosphere, in fact, you can almost
always see him with a smile. So ladies, if you're
looking for a type of man like Chris, try talking
to him in the hallway or after school. Who
knows, you might be his girl!