An Early Look to The 2017 MLB Standings
Now that we are officially in May, we can start looking at the MLB standings and statistics without saying "it's still April".  So with that being said let's take a look at who is off to a hot start and whose not in each division.
NL East:
The hometown Washington Nationals sit atop in the National League East with a current record of 21-9.  Nationals First baseman, Ryan Zimmerman, is off to the hottest start of his career thus far.  Leading the National League with a .435 batting average, 13HR, and 34 RBI earning him NL Player of the Month for April.
NL Central:
In the Windy City the defending World Series Champions Chicago Cubs were off to a sluggish start but now sit atop the division with a 16-14 record.
NL West:
The Colorado Rockies are off to a surprisingly hot start led by All Star Nolan Arenado.  Although they lack pitching, being able to hit in Coors Park for 81 games a year may help them stay competitive in the long run.
The always competitive San Francisco Giants are off to a horrible start, and with the dirtbike accident of ace Madison Bumgarner sidelining him for 6-8 weeks things don't look too good.
AL East:
The prospect stacked New York Yankees have come out of the gates hot with a 19-9 record.  RF Aaron Judge is evolving into a Giancarlo Stanton-like player with his incredible power at the plate.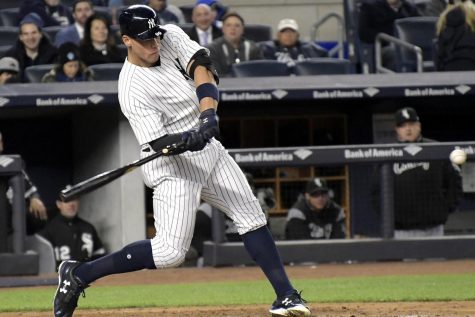 On the flip side the Toronto Blue Jays are off to a disappointing start due to the injuries of star players, Josh Donaldson and J.A. Happ.
AL Central:
Much like the NL Central, in the AL Central there are a lot of teams that have the potential to be in a pennant race down the line but are all sitting at about .500 records.  The Indians are currently on top but the Twins, Tigers, and White Sox are all within one game back.
The Kansas City Royals are surprisingly the only ones not in the mix of things and many people expect them to be with the Indians at the top.
AL West:
The Houston Astros are currently leading the division while the rest of the division is at .500 or below.  This division if there for the Astros to take and run with it, although they have a poor record against division rivals Texas Rangers who have the ability to be in the mix of things come September.