Field Hockey Drives Through Another Great Season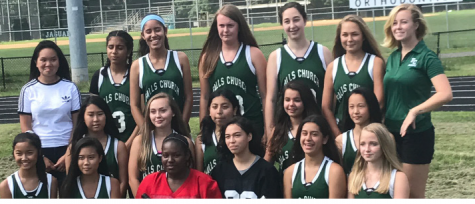 Intense, teamwork, and fun are all words that are used to describe our field hockey team. It's been another great season for the girls, as they've put hours of effort into improving. It's been a fantastic way for the girls to create new friendships, stay fit, and have fun all at the same time.
Along with that, the girls also establish connections with each other. "The field hockey team is honestly one big family. You laugh a lot, you sweat a lot, and just have a really fun time with people you love. It also helps that you make super close friends and you learn to become a team player," said Jia Williams (11).
The girls on the team work really hard at every practice to make a better, stronger team. Field hockey has also set examples for the girls to be responsible and how to really commit and be a part of a team. Some girls have only started playing this year, and already shown much improvement. In practices, the girls put in two hours of work, almost daily. During practices girls have to condition, practice strategies, and do basic field hockey skills.
There are three coaches for the JV and Varsity team. The three coaches are Coach Hales, Coach Kassem, and Coach Ranson. These coaches inspire the girls to play their hardest and to always learn from every opportunity, win or loss. Throughout the season, at each game there has been a big change for the JV and Varsity team who continue to work harder than ever.
As for experience, the field hockey players have a wide range, from one year to four years, so that even completely new players can join the team. Being on the field hockey team has many advantages and opportunities to get more involved with school activities. "It's a great opportunity to make other friends and have someone to talk to on the first day," said one of the JV captains, Christine Duong (9).
Being on a team was also impactful on the girls' lives. "Since I've been playing for so long, it's been a distraction from my responsibilities. When I'm playing, it's a mental break," said three-year-player, Cindy Lemus-Portillo (11). "It taught me how to be confident," said Khadija Hassan (10). Varsity player Sandy Flores (11) said, "I learned that it's really important to work as a team, because if one doesn't know what they're doing on the field, then the whole team crumbles down."
Field hockey is a way to socialize and helps the girls realize what teamwork is really about. As Cindy put it, "I've learned a lot about being on a team, the commitment it comes with, the value of being on the team, and playing. Throughout the wins and losses you always have fun, your team is your family." Go Jags!