Bump, Set, Spike: What Does It Take to Play Volleyball?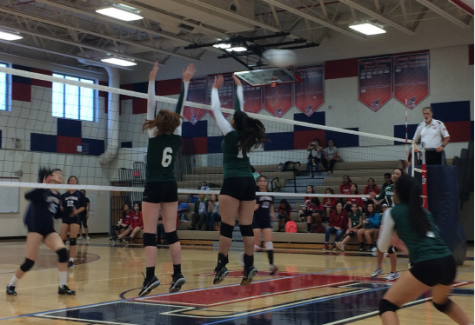 The volleyball team has been off to a fresh start as many people tried out and made the team. We at The Jagwire wanted to see how the season was going for them.
We started by asking the players what got them interested in volleyball.
"I decided to do a high school sport to be more active and fit and friends got into it," said Ashley Machado (9).
"I first played in middle school and fell in love with the sport and felt that I could be more involved and meet new people while doing something that I love," said Lily Demilew (9).
"My mom asked my siblings and I what sports we wanted to play so she could sign us up. I was in third grade at the time, and I wanted to do a sport that wasn't super common (soccer, basketball, etc.) so I was deciding between playing tennis and volleyball and decided to give volleyball a try. I played volleyball that spring and I had a lot of fun and continued to play," said Iman Abuel-Hawa (9).
We wondered how tryouts had gone, and they answered with this: "It was hard because there was more girls than I expected and I found some things easy but my serving was a little off," said Ashley.
"In my opinion I thought tryouts would be easy but they were competitive but I worked it out and pushed through and worked hard," said Lily.
"I think that tryouts were easy because I had been through them before and I already knew how to play the sport, so I knew what I was doing." said Iman.
We wanted to see how the players felt about the coaching and practices. "Sometimes we get tired but it's OK. I sometimes have off days but they're helpful," said Ashley.
"Even though I have off days I still like them but sometimes we get irritated by the lack of speed in some drills but we have the best coach ever." said Lily.
"My coach, Coach Sara, is a really good coach and knows what we need to work on most and mainly focuses on them during practices. Plus she makes practice a fun place to be." said Iman.
Do the players plan to continue to play throughout their high school years?
"Yeah, I will definitely continue but I have to drop one of my other sports but it's worth it," said Ashley.
"Definitely—I can't wait to be on Junior Varsity," said Lily.
"I definitely plan to continue playing Volleyball throughout High school," said Iman.