Teacher Feature: Mr. O'Neil of the English Dept.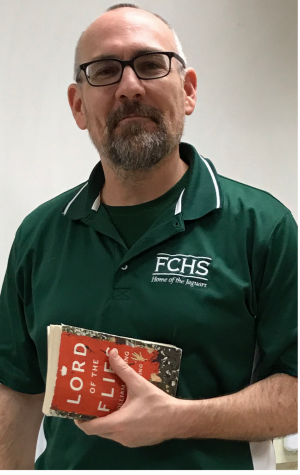 This issue's "Teacher Feature" is on Mr. O'Neil of the English Department. Mr. O'Neil was born in Omaha, Nebraska but only lived there only a small amount of time. This is because his father was in the Air Force so they were constantly moving to meet the needs of his job. A few years after he was born,
Mr. O'Neil's father retired from the Air Force, and his family finally settled down in Annandale, Virginia at the age of 5. While living here, he attended W.T. Woodson High School. After his High School tenure, Mr. O'Neil attended Baylor University in Waco, Texas, and while attending, he majored in Political Science as well as Slavic Studies. After college, Mr. O'Neil originally worked as a human resources professional for 20 years before deciding to ditch that for teaching.
This is Mr. O'Neil's fourth year of professional teaching, and his fourth year teaching at Falls Church. When asked how he feels about his switch to become a teacher, he stated that, "Becoming a teacher was the best professional decision I've ever made". During his four years at Falls Church, Mr. O'Neil has taught primarily English, ranging from grades 9 to 11. This year, Mr. O'Neil teaches only English 10, (his first year teaching only one grade level) as well as Photojournalism (Yearbook).
English, though, has always been Mr. O'Neil's passion as a teacher. He states that, "I love reading a wide array of texts and believe that it deepens my understanding of the world around me and what it means to be a human. I enjoy sharing my passion for reading and unpacking literature with my students."
Mr. O'Neil's teaching style is very upbeat and inquisitive, always trying to keep classes interactive and as non-dull as possible. When asked about his goal while teaching Mr. O'Neil explains, "My goal is that students will come away from my classes with greater confidence in their ability to think critically and express themselves." Mr. O'Neil hopes that his style of teaching will encourage students to take risks while learning, and expand their personal horizons to really achieve their full potentials.
When Mr. O'Neil is not busy teaching, he loves to work and perform with his long form improv ensemble in DC. He also loves to read, watch college football, and also likes to practice yoga is his free time. In summary, Mr. O'Neil is one of the best teachers at Falls Church as anyone who has ever been lucky enough to have him as a teacher definitely knows.