Drama Department Holds First Annual Fall Festival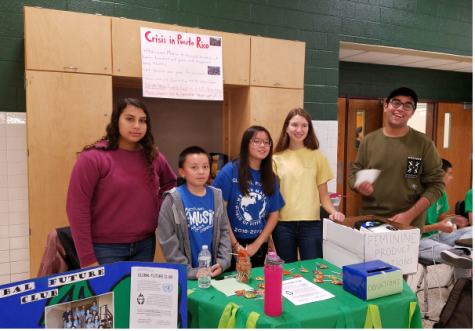 On Saturday, October 14, the Drama Department kicked off a new tradition at Falls Church High School by holding their first annual Fall Festival. In this new festival, there were many different clubs and fun games to participate in. This festival helped numerous clubs raise money for their own needs as well as making charitable contributions to outside groups.
"(The) Fall festival was to bring the community together and to help all the clubs fundraise," said Danielle Phan (12), one of the event's organizers. One of the Drama Department's goals was to make this festival interesting and interactive for everyone. In addition, the festival was open to all ages. Activities and games were held at each club's table, and each club got to decide what games they would feature, and how much each activity would cost. Tickets to participate in the games were sold for $1 each, and in the end, each club or group would get their portion of the proceeds of ticket sales based on how many tickets their activity collected.
We spoke with a few clubs to get their perspective on the festival and how it helped them reach out to others. "We thought it would be a good idea to work with other clubs," said the Muslim Student Association.
"It's a good way to raise money and raise awareness," said the LBGTQ+ Club.
Some of these clubs have used this festival as a way to help spark interest for children to seek a potential interest in the future. "We believe by spreading education we will create the next generation of scientists and engineers," said the Jagbots.
Many of the clubs were raising money for good causes, while others were seeking funds able to do more activities. The Global Future Club raised money for Hurricane Maria victims. The Improv Team performed and raised money towards the theatre's New York City trip.
The festival was a good platform to promote clubs and encourage more students to be active in school activities and to join the clubs. "We're all about promoting health," said the Fire EMS Academy. "Our club is about spreading knowledge of our culture and appreciating [our diversity]," said the Asian Student Association.
This festival was a very kid-friendly event. This included face-painting and fun costumes for the kids, as well as a cake-walk. Plus, there were also fun activities for teens and adults, like a mini basketball competition, pie in the face, and a douse booth.
Food is always a fun part of any festival, so there were grilled hamburgers and hot dogs outside provided by the FCHS Culinary program, while other snacks like chips and beverages were offered inside. Some of the clubs sold desserts like cake, authentic Asian cuisine, and more.
Overall, this event was beneficial for all who went. Clubs raised money, while the people had a great time.