Xboxed in by Pandemic, Students Turn to Video Games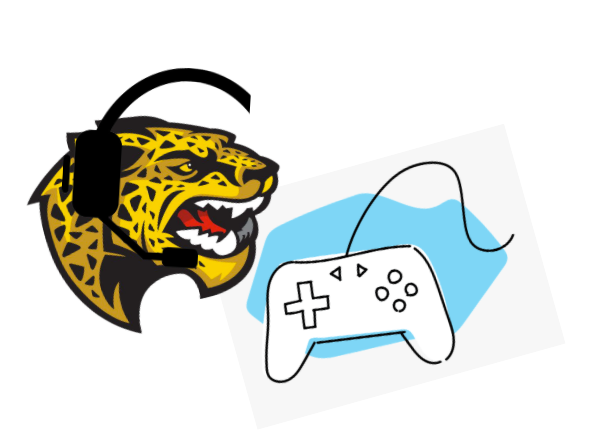 When the pandemic threw the nation into lockdown, many students dealt with the uncertainty and isolation by donning a headset, flipping on their gaming console or computer, and joining an online server with their friends. From Modern Warfare to Rocket League, gaming has become many students' quarantine companion.
According to Verizon, gaming went up 75% in just the first week of quarantine, and this increase has continued as COVID-restrictions have left many spending more time at home. "I have played more often because I have more time," said Peter Kratz (10). "I only have sports twice a week instead of every night. I can also complete my school work at my own pace." 
While teachers have more responsibilities than students do, they have also embraced video games during this time. "As a teacher, I have always enjoyed playing video games and always will," said Health and PE teacher Brian Booth. "[But] I like to keep a balance with everything so, even though I have had more time, I will only indulge in playing more games once all of my responsibilities and self-care are taken care of."
In addition to helping them pass the time, students have used video games to help cope with the COVID-19 lockdown. "Video games are an escape," said Peter. "You don't have to deal with real-world problems." 
Gaming has always been a fun way to stay in contact with long-distance friends, but when the pandemic started, it was also a fun way to stay in contact with friends who lived just down the road. "Gaming has helped me stay less stressed by giving me a way to talk to my friends and to give me some time to escape reality either by myself or with my friends," said Bennett Poplin (10).
For some, like Jamie Perez (10), gaming isn't just a helpful quarantine pastime—it's a dream job. Jamie wants to be a Twitch streamer and make YouTube videos for an esports team. "The quarantine has given me more opportunities to improve at the games I love," said Jamie. "It has also given me more time to watch content creators to see how they do what they do."
With reality in flux, some say gaming provides them continuity. "One of the ways I keep my cool is playing games online with friends," said James Riherd (10).  "I may not be able to every day, but picking up where we left off every weekend, even if it's late, is what keeps me going and motivated."