TJ Admissions-Reform Polarizes County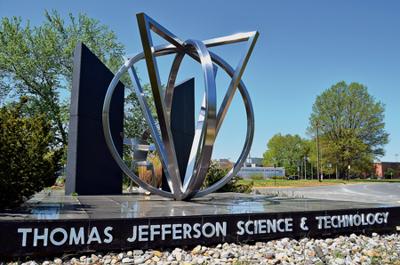 The scratch of a pencil, rustle of paper, and screech of moving chairs—those were the sounds of the Thomas Jefferson (TJ) High School admissions exam. But now that Fairfax County has scrapped the test and is looking to transition to a merit lottery, the TJ test bubble sheets will remain unused; the fate of the country's top-ranked high school is now the biggest question.
The admissions exam was just one stage of a difficult application process that left TJ with an acceptance rate lower than many top colleges. However, this process has faced long-time criticism due to TJ's high percentage of Asian and White students—71.5 and 19.48 percent respectively—and comparatively low percentage of Hispanic and Black students—4.32 percent combined. "Being from an underrepresented group at Jefferson is difficult," reported student newspaper TJToday earlier this year.
To address this, in early October the FCPS School Board approved Superintendent Brabrand's proposal to remove the admissions test and is currently considering adopting a merit lottery system that offers all middle schoolers with a certain GPA an equal chance at admission. This decision has drawn fiery criticism, even spurring a lawsuit from dozens of families with TJ hopefuls who had prepared for the test.
While many TJ students support increased racial diversity at their school, many are also concerned about the effect on TJ's standing as the top high school in the country, per U.S. News & World Report. "Of course, the new changes will shift the ranking downwards," said Joshua Lyon (TJHSST '23). "One of the main reasons TJ is TJ is because of the rigorous admission processes."
But some see the removal of the test as part of a positive shift towards equity, regardless of any ranking change. "At the end of the day it's an institution that's trying to educate children, not trying to establish its reputation for the rest of the nation," said TJ alumni and Falls Church Math Teacher Paul Naanou. "The thing that makes students succeed is not necessarily their innate content knowledge, but their willingness to learn.