Wrestling Team Struggles to Break Pandemic's Grip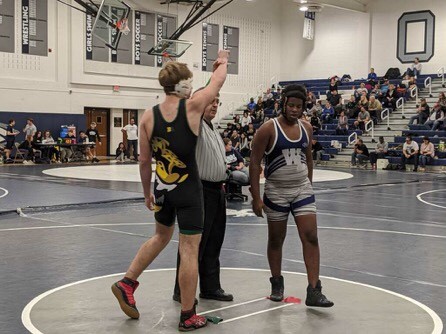 Sweat dribbles down onto the wrestling mat as athletes tussle in the school gym. Forget social distancing, a typical wrestling meet is a hub of close contact, and those hoping to compete in the sport this year are facing their biggest opponent yet: the pandemic.
In adherence with the Virginia High School League's adapted sports schedule, wrestling will be one of the first sports to officially start, and the school's team has its tryouts on Dec. 14 with their first match on Dec. 28. However, this season is poised to be unlike any other, with statewide regulations mandating shorter matches during competition and eliminating the traditional referee's hand-raising of the winner.
To prepare for this heavily altered season, the school wrestling team has been holding socially distanced pre-season conditioning multiple times a week. However, Head Wrestling Coach Warry Bonney expresses concern that the season they're training for might not even take place. "The athletes do not wear masks when working out and will not be required to do so when they compete, as far as I am aware," said Coach Bonney. "Unfortunately, I, as well as many wrestling coaches in the county, am skeptical that we will have a season with the continued growing COVID-19 cases and concerns." 
And pandemic worries have already driven winter wrestling cancellations nationwide. States like Illinois and Massachusetts have either delayed their seasons till the spring or summer, or have canceled outright.  
But even if they might not be able to get close to their opponents in competition this year, many wrestlers express excitement for any opportunity to enjoy the sport they love. "Even if we don't get to wrestle, it is great to be back out here practicing with the team," said Nathaniel Manarin (11).