New Cross Country Coach has Track Record of Success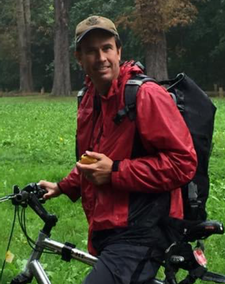 The loud bang of a starter's pistol, the stampeding thuds of runners pushing to get to the front of the pack, the rip of a finish line ribbon: Head Track and Cross Country Coach Matthew Smith has been surrounded by the sounds of foot races from a young age.
Coach Smith started running when he was 11, coming from a family of runners. "My dad—his high school team set the 4 by mile national record," said Coach Smith. "I had five older brothers that were all runners." Coach Smith followed in their footsteps, and his main events became the 5000 meter run, 3000 meter run, and the 1500 meter steeplechase.
After competing in high school, Coach Smith walked onto the cross country and track team at the University of Michigan, where both his father and his older brother competed. And he quickly rose through the collegiate ranks in the 5000 distance, earning 2nd All Big Ten and 10th at Nationals in his senior year, running his best time in the low 14 minute range. 
After Coach Smith finished running in college, he moved to the Washington D.C. area and signed with the Reebok Enclaves—an elite running team included in a running league located in the D.C. area. "They paid for your entry fees and they gave you clothes and shoes," said Coach Smith. While living in the D.C. area, Coach Smith worked to drop time and obtained a personal 5000 meter best in the high 13 minute range and also taught at Lake Braddock High School.
Coach Smith's wife is a Foreign Service Officer—a career that brought the Smith family overseas to Belgium where Coach Smith moved to full-time coaching and teaching. After coaching a championship team in Belgium, Coach Smith and his family moved to Moscow, Russia where he continued to coach accomplished athletes.
 After coaching at the American School of the Hague, the International School of Brussels, AAS Moscow, and the St. John's International School, Coach Smith racked up a total of 29 championships from The DODDS, The CEESA, and The ISST—all international leagues for English speaking Americans in foreign countries abroad for international matters—from both junior and senior girls and boys teams. In total, his athletes have broken six conference records, been individual league champions 105 times, and broken 119 school records.
Coach Smith moved back to the United States in 2018 and now lives in a house that he built in Falls Church. He was hired by the school as a cross country coach and then head track coach last year, and has since been working to build the school's running program. 
Coach Smith wants to help runners work on improving skills like sportsmanship, fitness, and self-confidence.
"We just want to make the program the best that we can," said Coach Smith. "Grow it, get more kids, have fun, enjoy, do well, and win."