Plummeting College Acceptance Rates Crush Seniors' Dreams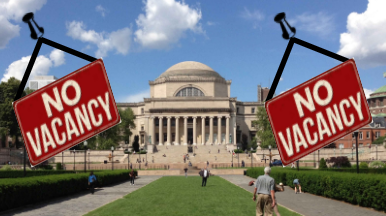 Surrounded by anxious family members, an unopened application update in front of them, and their future seemingly on the line: the end of college admissions season is always an emotional rollercoaster for high school seniors. But this year has been particularly gut-wrenching, as plummeting acceptance rates at top schools have foiled students' dreams.
The pandemic fundamentally changed college admissions this year. Waived standardized test requirements and overall uncertainty by student applicants drove an 11% increase in Common App applications, especially to the most widely recognized and competitive schools. "I applied to schools I definitely didn't think I'd get into," said Rohith Venkatesan (12).
And what's more, students who were accepted to college last year—but elected to take a gap year—effectively took spots from seniors applying this year, leading to unprecedented competition for seats at highly desired institutions.
These factors combined to drive yet another disappointment for many seniors. "The college application process was a lot harder this year, especially for ones like me with high test scores and an average GPA," said Nico Vacca (12). "Schools put more emphasis on GPA than ever, so my college decisions were disappointing."
Ivy League schools reported record-low admissions rates—with Harvard at 3.4% and Colombia at 3.7%—leading some students to compare these numbers to milk percentages. "Yale? More like fail," said Jack Child (12). "Cause that's what my application did."
And even at more accessible, but still highly selective, schools like Virginia Tech, decision results continued to disappoint. Top Virginia schools accepted a lower percentage of students while growing their waitlists due to uncertainty about how many students would ultimately enroll.
Large waitlists raised the hopes of some students—but for the most part only delayed mass disappointment. "It sucks to expect to go somewhere your whole life and then get rejected or waitlisted," said Joel Haas (12). "It's like, now what?"
This year's results are foreboding for future college applicants. "It's scary because these students applied themselves and they didn't get in where they wanted to go," said Julian Scott (11). "I'm worried it's going to happen to me."
For students still reeling from a year of canceled classes and events, upsetting college decisions are devastating. 
But after so many let-downs, some students say they're prepared to deal with setbacks. "Obviously I'm disappointed," said Robert Martin (12). "But it's going to push me to succeed, and to be better."