The Last First Day
The Class of 2022 enjoyed the morning sunrise on the football field to ring in their senior year.
FCHS Football Field — The sun rises over Falls Church HS as the Class of 2022 sits on the field, facing east, staring down a senior year like no other. To their left, where the basketball and tennis courts once were, sit the trailer classrooms in preparation for the $130 million renovation of FCHS set to begin this winter. Donuts are served and the seniors are sitting on blankets, eating, talking, and laughing; many haven't seen their classmates since March 2020. 
When the first few seniors arrived, it was still dark out; only the flood lights on the field and an unusually bright full moon illuminated the early-birds spreading out their blankets on the astroturf, still wet with morning dew. 
Samantha Mendoza-Hernandez (12), the Class of 2022 President, expressed concern that there may be little opportunities for senior events and milestones this year amid rising concerns about falling vaccination rates and breakthrough cases. "We don't know what's going to happen post-winter, so it feels good to be able to have this."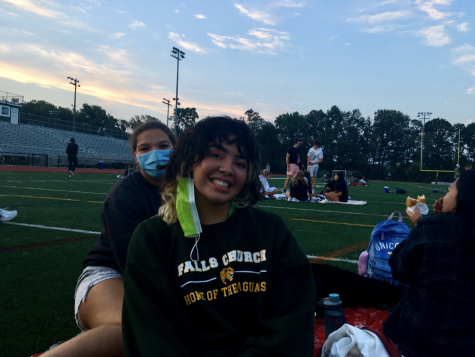 Because classroom trailers now take up a significant number of the already limited parking spots, students are forced to park on the street or in the back lot of Providence RECenter. Laila Omar (12) drives herself and her younger brother to school; "I'm a little upset about the whole not-being-able-to-park-in-the-student-lot thing," she says, as she swings her lanyard around her hand. Laila plans to park at Providence instead. 
Marisa Phillips (12) opted to be homeschooled her junior year instead of attending virtual classes. She is thrilled to be with her peers once again, many of whom she hasn't seen since March 2020. "It was really hard to find motivation on my own," Marisa says of her year of homeschooling, "I'm really excited about getting to do stuff with other people."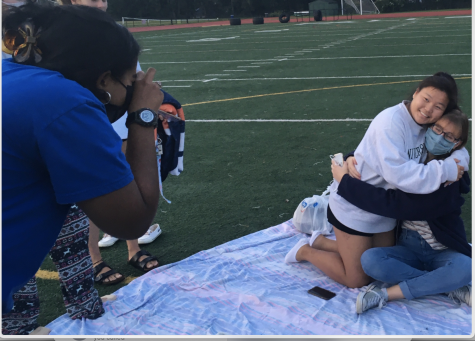 Having missed out on over a year of athletic and extracurricular opportunities, the Class of 2022 is making goals to be more involved, including starting something new. Kenny Sevart (12) and Connor Gilster (12) created a Spikeball Club in an effort to introduce the yard game to more people. Spikeball is a game often played at backyard parties and beaches that involves four people throwing a ball off a circular net. Kenny brought the Spikeball net and ball to the sunrise and invited others to play. "Anyone can pick it up: it's easy, it's portable, and we love the game," Connor said smiling as a stray ball whizzed past. They have already recruited a sizable number of their friends to take part in the club and encourage anybody who is interested in playing to join. 
At around 7:20, the seniors began to disperse. An hour later, the sun was fully risen and the morning dew on the astroturf was gone as the Class of 2022 made their way to their last first day.