Driven Crazy: Students Struggle to Find Parking
It's a rainy morning, and the students forced to park a quarter-mile away from the school know they're in for a tough walk. Already limited parking has taken a turn for the worse this year, making finding a spot a daily challenge.
With trailers covering what used to be the student parking lot, students are forced to park in either the Providence Recreation Center parking lot or try to secure a spot on Marc Drive — the road adjacent to the baseball field.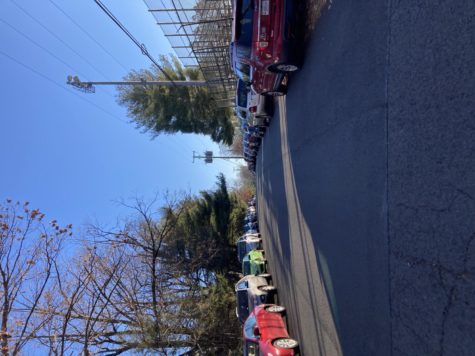 Both these options come with challenges. There is limited space on Marc Drive, so students hoping to park there have to show up increasingly early. "Those are state roads, anyone can park there," said Safety and Security Assistant Edward Walowac. "Marc Drive has turned into a general admission, first come first serve." 
Also, masses of inexperienced drivers attempting to parallel park on Marc Drive have caused scratched paint jobs, dinged bumpers, and smashed rear view mirrors. "I came back to my car after school to find my left side-view mirror hanging by the wires," said Richard Phan (11).
As for Providence, the school has an agreement to allow students to park in a portion of their parking lot. However, these spots require a parking pass, which students complain are unavailable.
Passes went quickly at the beginning of the year, inconveniencing new drivers that got their license after the school year started. However, Providence is a quarter-mile from the school, and many students with passes elected to park on Marc Drive for a shorter walk.
Administration now accounts for students parking on Marc Drive and is distributing passes again – giving out more passes than there are spots in Providence. Students can contact their administrator and explain why they need a pass.
The influx of student drivers and pedestrians around Providence and the narrow Marc Drive has generated safety concerns. There are no crosswalks, leading to frequent close calls. "Students cutting off cars and cars cutting off students," said Julian Scott (12). 
With renovation funding approved by voters, there are more changes to parking on the way. Possible locations for future parking include the softball field and the green space in front of the school. "Something needs to change," said Ehab Guirguis (11). "This is ridiculous."