Jeannasium: Gym Named After Longtime Jaguar
Jeanne Kelly stands in the middle of the gym floor, surrounded by school board member Ricardy Anderson, family members, and the Falls Church administrators. The bleachers are full of Falls Church students and staff. "This gymnasium will forevermore be known as the Jeanne Kelly Gymnasium," the announcer says as the crowd rises to their feet, giving a standing ovation to a Falls Church legend.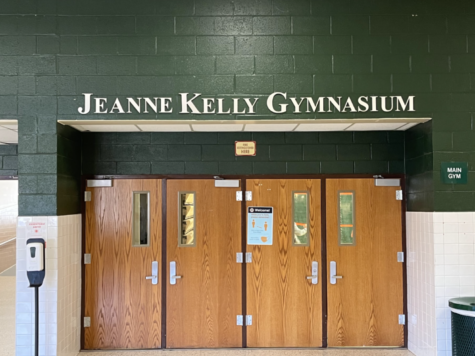 Ms. Kelly was a Jaguar for 31 years. She attended as a student, and returned as a girl's basketball and girl's tennis coach, a social studies teacher, and later Director of Student Activities. Ms. Kelly devoted her career to ensuring that even the most underrepresented students had opportunities to grow in athletics and performing arts.
The dedication process is not as straightforward as it sounds. In this situation, the administrators gathered letters of recommendation; then, they crafted a resolution to send to Regional Assistant Superintendent Fabio Zuluaga, who then presented the resolution to the school board for consideration.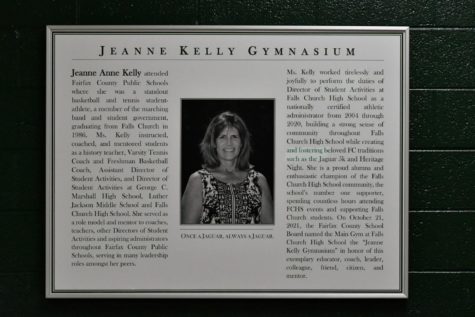 Ms. Kelly retired in September 2020 when everything was shut down due to COVID, she was formally recognized for her work in February 2022. "It was a tough time when she left," said Bobby Krause, current Director of Student Activities and mentee of Jeanne Kelly. "She was somebody who had been in FCPS for 30 years. She left, she retired, and was gone." 
Ms. Kelly's legacy lives on after her anticlimactic retirement. Not only was she in charge of the janitorial staff, the PE department, and the building's maintenance, but she also started the Jaguar 5K, an event that raises $10,000 a year for the athletic department. She created Heritage Night as well, an annual event that showcases the different ethnicities represented in the school.
According to Krause, Ms. Kelly fought to get new turf fields, "basically paid for through construction funds" She was able to bypass the usual process of spending countless hours fundraising money, a process that would take even longer in the Falls Church community due to income restraint. 
According to Health and PE teacher Ryan Healy, Ms. Kelly was a reliable and stable person to work under. "As a young coach I did a lot of stupid stuff, that somebody without patience might have provided more harsh consequences for," he said. "I never saw her yell at anybody. Even in the worst of times, she stayed even."
Not only was Ms. Kelly reliable to work with, but she actively helped staff members work through the different issues they faced. "She was a wealth of knowledge I would often go to for perspective on different issues," said Principal Ben Nowak. "When I was hired as principal she helped me learn about and assimilate into the FCHS culture."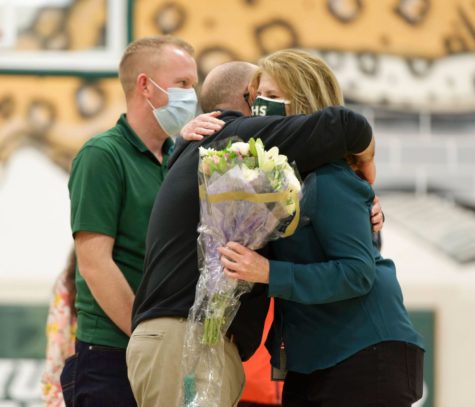 For 17 years Ms. Kelly put the school's and the communities' needs above her own. She worked on holidays and weekends and went to every athletic event. "She worked 85 hours a week," said Assistant Principal Peter Lake. "She would come in early in the morning and she would stay here until the last activity ended at 10 o'clock at night." 
For 17 years Ms. Kelly put the school's and the communities' needs above her own. She worked on holidays and weekends and went to every athletic event. "She worked 85 hours a week," said Assistant Principal Peter Lake. "She would come in early in the morning and stay here until the last activity ended at 10 o'clock at night." 
Ms. Kelly believed she was just doing her job. "I was not expecting this honor at all but I believe my longevity as a Jaguar is probably the main reason," said Ms.Kelly. "I loved working to try and make FCHS a better place."