Get to know your Safety and Security Staff
Safety and Security staff check cameras, monitor hallways, and respond to walkie-talkie calls.
Security staff are responsible for a variety of tasks throughout their day. "We do fire drills, check buses, tardy hall sweeps, open doors for substitutes, issue permits for parking," said Safety and Security Assistant Edward Walowac. Many security staff members have similar responsibilities, but some have unique responsibilities like Mr. Walowac. "I am responsible for the east side of parking," said Mr. Walowac, "I check for hang tags." His most rewarding experience is getting to build relationships with all students because he gets to see students persevere through negative situations. "I used to work at Fairfax High School for one year, monitoring reassigned students," said Mr. Walowac. Reassigned students are students who get a second chance to make good decisions.    
Most Safety and Security staff have their certifications in A.E.D, First Aid, and medicine administration. They are required by the Virginia Department of Criminal Justice Services to renew their license by earning 16 hours of School Security Staff training every two years. Some  security staff members come from a different background like the Marine Corps or the C.I.A.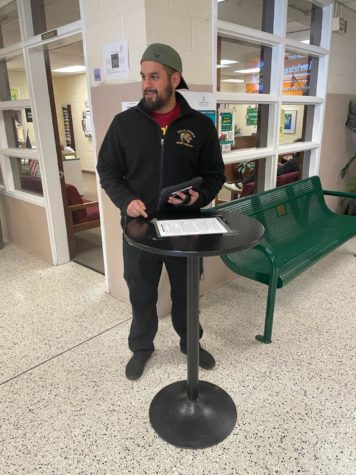 Safety and Security Assistant Derrick Gwyn was a former Staff Operations Officer for the Central Intelligence Agency (C.I.A.). Mr. Gwyn was also a Deputy Chief for the State of Virginia. He appreciates the different cultures and a wide range of personalities that he is around. "We're here to help students not get them into trouble," said Mr. Gwyn. Some responsibilities that he has is responding to radio calls, making sure there are no threats, handling incidents, and ensuring the building is safe for students and staff. 
Safety and Security Assistant Alexis Lazo was a former Marine Corps member, he trained in Paris Island, South Carolina to become a Marine. Mr. Lazo got into this career through his cousin who used to also work as a Safety and Security Officer. On a daily basis, Mr. Lazo  is distributing keys, monitoring the cameras, and responding to emergency calls. Apart from being a Safety and Security Assistant, Mr. Lazo also coaches the wrestling team. "Coaching the wrestling team lets students see another side of me," said Mr. Lazo. "Work is work, play is play." 
Leave a Comment