Celebrating Winter Holidays in Russia: the Best Time of the Year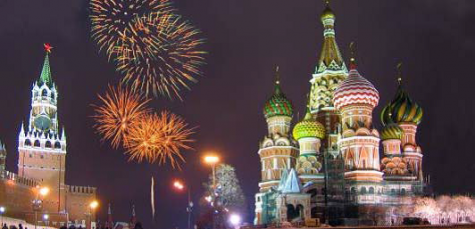 For people from Russia, winter is the most favorite time of the year, even though sometimes it can be 45 degrees below zero and it snows almost every day. The reason to look forward to winter is our traditional holidays, which bring happiness and joy to every single family's house.
If you ask Russians about their favorite holiday, the answer will certainly be New Year. There is no holiday more beloved than New Year in my country. December 31 through January 1, major celebrations take place all over Russia. No matter where you are, you always can hear fireworks and concerts all night long. Russian Santa, who is called "Ded Moroz" (Grandfather Frost), and his beautiful granddaughter "Snegurochka" visit children's houses to pass out gifts. A Christmas Tree is considered a New Year's Tree in Russia, and it is common for closest family members to gather and decorate it. During the celebrations, each Russian family cooks a great dinner, with delicious traditional dishes. There are some New Year's movies that you can see on TV on that day every single year. If you are invited to someone's house on New Year's Night, you may be absolutely sure you will have an amazing time surrounded by friendly and hospitable people. It's like the magic of the most unique night of the year that makes every person happier and kinder. You can often hear people refer to New Year's Night as to the 'magical night' or the 'night of the miracles'. On December 31st no one goes to bed. Even little children stay up till the early hours in the morning. Just before midnight, the Russian President gives a short speech about the past year and thanks the people for their support. Right after the speech, the chiming clock on the Kremlin's Spasskaya Tower is shown counting down the last few seconds of the year. Right after that, at 12:00 am, people drink champaigne and make a wish. The celebration continues for the rest of the night.
Christmas in Russia is mainly a religious holiday which is most widely celebrated on January 7, according to the Orthodox calendar. A lot of people go to church services on that day. On Christmas Eve, it is typical for all family members to gather and have dinner. Unlike America, Christmas in Russia is not the most popular holiday and not everybody celebrates it.
Christmas is not the end of winter holidays. Russians have a custom to celebrate the Orthodox New Year on January 14, according to the old orthodox calendar. This "Old New Year" is much quieter than New Year's Night, and people usually just have a big dinner with their family members, close friends and give small memorable presents.
I would say that the best place to celebrate New Year in Russia is Moscow. At night you can go to the Red Square with a big group of friends, see the greatest fireworks, visit the enormous ice-skating rink. Moscow is a place where Alex Conners (12), who comes from Russia, used to celebrate winter holidays when he was a child. "In Russia, New Year is a wonderful holiday," says Alex. "Even now my family and I stick to Russian traditions of celebrating it. We watch Russian TV and cook traditional meals, such as Russian Olivier Salad. We also listen to the President's speech and the chiming clock of the Kremlin's tower. I think that if you want to have the most amazing New Year's night, Russia is a place to go."